Located a short distance from Telluride and Silverton lies one of the most beautiful waterfalls in Colorado. South Mineral Creek Falls offers visitors a combination of iconic cascading waters with a scenic wilderness backdrop that can easily rival any other state waterfall as the best one to visit.
Details about South Mineral Creek Falls
There are two different tiers you can access with the cascading waters rushing down towards Clear Creek. With the elevation at a staggering height of over 10,000 feet, the Colorado snow helps maintain constant flow year round. The upper section of the falls drops roughly 35 feet into a fairly large swimming hole where it then flows to the lower south mineral creek fall and drops again an additional 20 feet into the more scenic section where patrons typically stop to view the waters.
What makes South Mineral Creek Falls so special compared to others is the crystal turquoise color of the water. Because it's fed by snow melt rather than a lake or river and then combined with sediment and powder from glaciers local to the area, the contrasting difference between the water and red rocks gives it the picturesque views most only see on discovery channel. It's truly one of the hidden gems with the San Juan National Forest of Colorado and a must place to visit if you are camping or hiking in the area.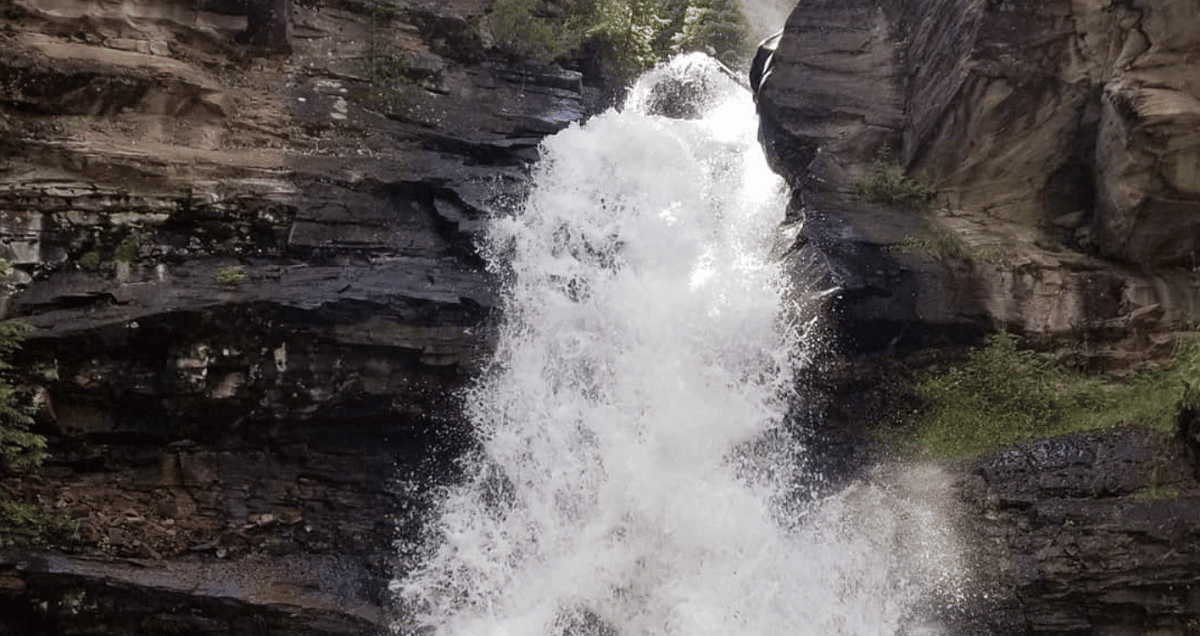 Directions and Location of South Mineral Creek Falls
Most people enjoy making it a weekend getaway and staying at the South Mineral campground nearby. Within a one mile hike south of the campsite you will enjoy quite a bit of wildlife, several smaller waterfalls, and some of the best views Colorado has to offer.
Directions
Address: 37.805 -107.77761
From Silverton, Colorado – Map
1. Go North on the Million Dollar Highway – US 550 for roughly 2 miles
2. Make a left onto Road 7 (keep a close eye as it's easy to miss) and continue for another 4.5 miles
3. You will come to a bridge that crosses over Clear Creek where parking is accessible
4. To the west of Clear Creek you will see an unmarked trail that leads you towards Mineral Creek where it's roughly a quarter mile hike to your destination.
From Telluride, Colorado: Map
Hiking to South Mineral Creek Falls
The falls are accessible via an easy one-mile hike along South Mineral Creek Trail, which begins at the Molas Pass parking area and winds through aspen groves and evergreen forests before reaching its final destination. The trail continues past South Mineral Creek Falls to numerous other attractions including upper South Mineral Creek Falls and Little Bear Lake.
Both destinations offer stunning views of the surrounding mountains and valleys while providing hikers with an opportunity to explore some of Colorado's most beautiful alpine scenery. There are also several offshoot trails that branch off from the main path so be sure you remember the path you took to get there. It can be easy to get turned around or lost.
Camping Areas around South Mineral Creek Falls
South Mineral Creek Campground is the closest option to the waterfall. This campground has 26 tent sites which are first come first serve. Each site also offers firepits and picnic tables.
Deep Lake Campsite is a primitive campsite located on top of Molas Pass that provides stunning views overlooking Silverton from its mountaintop location. There are only two sites at this campsite so be sure to plan ahead if you want to stay here!
For those who prefer backcountry camping, there are numerous locations along USFS Road 585 leading up towards South Mineral Creek Falls where dispersed camping is allowed (just be sure to check local regulations). On your way up the road keep an eye out for small pullouts or clearings perfect for pitching your tent.
Check out our Map of Colorado waterfalls for other amazing natural attractions to enjoy.