Orange Beach, Alabama is a coastal town located in Baldwin County. It sits on the Gulf of Mexico and has become a popular tourist destination for many people looking to get away for a day or two. The area offers beautiful white sand beaches, plenty of outdoor activities, and an array of restaurants, shopping, and nightlife options.
Activities at Orange Beach, AL
There are also plenty of activities to do in Orange Beach such as parasailing, jet skiing, kayaking, and paddle boarding. For a bit of an adrenaline rush, we highly recommend giving parasailing a try. The aerial views of the Gulf of Mexico and Alabama coastlines are something you soon won't forget.
There are even dolphin cruises where you can observe these majestic creatures up close as they play around in their natural habitat.
When you finally decide to get out of the water, you can continue your day with other activities on Orange Beach's miles of white sand that stretch along the shoreline. There are multiple public access points throughout town that provide direct access to the beach!
One of the most popular attractions on the boardwalk is Adventure Island – an amusement park with over 40 rides ranging from thrilling roller coasters to classic carnival games. The park also features two waterparks that offer a variety of slides, pools, lazy rivers and splash pads perfect for cooling off after a long day in the sun.
Boardwalk at Orange Beach, AL
The boardwalk at Orange Beach in Alabama is an excellent place to spend a day or evening. This area offers plenty of activities for all ages including shopping, dining, entertainment, and more. From pop up carnival games to grabbing a quick bite at countless restaurants, it's easy to see why some people skip the beach and spend their time enjoying all the attraction on the boardwalk.
Before you leave the boardwalk area, make sure you quickly take a stroll to the pier jutting out into the Gulf. It provides some stunning views of the sunset each evening making it one of the best places finish off your day. During certain times throughout the year, Orange Beach holds special events like festivals or concerts on their boardwalks or in several locations on the beach.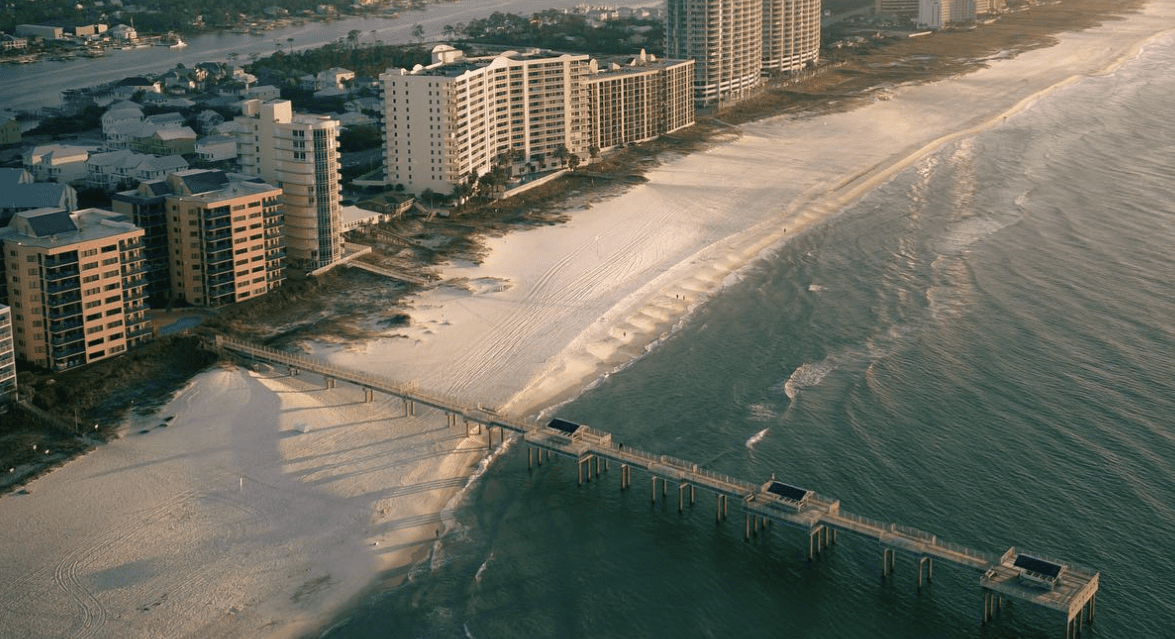 Accommodations at Orange Beach, AL
The area has plenty of accommodations to choose from for visitors looking to stay on their trip. For those looking for luxury and convenience, there are several high-end hotels located right on the gulf that offer stunning views and easy access to all of Orange Beach's attractions. These include Perdido Beach Resort, Caribe Resort & Spa, Turquoise Place Condominiums, and more. Each hotel offers a variety of amenities such as pools, spas, restaurants and bars.
Something more budget-friendly or family-oriented then consider staying at an RV park or campground near Orange Beach. There are numerous options available including Bayou Marino RV Park which has waterfront sites with direct access to the beach as well as full hookup sites with cable TV and Wi-Fi service. Bellingrath Gardens & Home which provides camping spots surrounded by gardens or Gulf Shores Campground where you can enjoy activities like swimming pool access along with nature trails.
Finally if you want something uniquely local then check out one of Orange Beach's many rental properties ranging from condos to cottages offering everything from basic necessities up through luxurious accommodations depending on your needs.
Directions to Orange Beach, AL
Address: 25900 Perdido Beach Blvd, Orange Beach, AL 36561
From Mobile, AL – Map