Mesa Falls is a breathtaking natural landmark located in southeastern Idaho near the Montana border. It consists of two waterfalls, Upper and Lower Mesa Falls, that drop more than 100 feet into a deep rock canyon surrounded by lush vegetation. This area has been inhabited for thousands of years, with evidence of early human habitation dating back 8,000 years. From Native American tribes to settlers who arrived in the 1800s, many people have seen the beauty of this majestic waterfall and its surrounding landscape.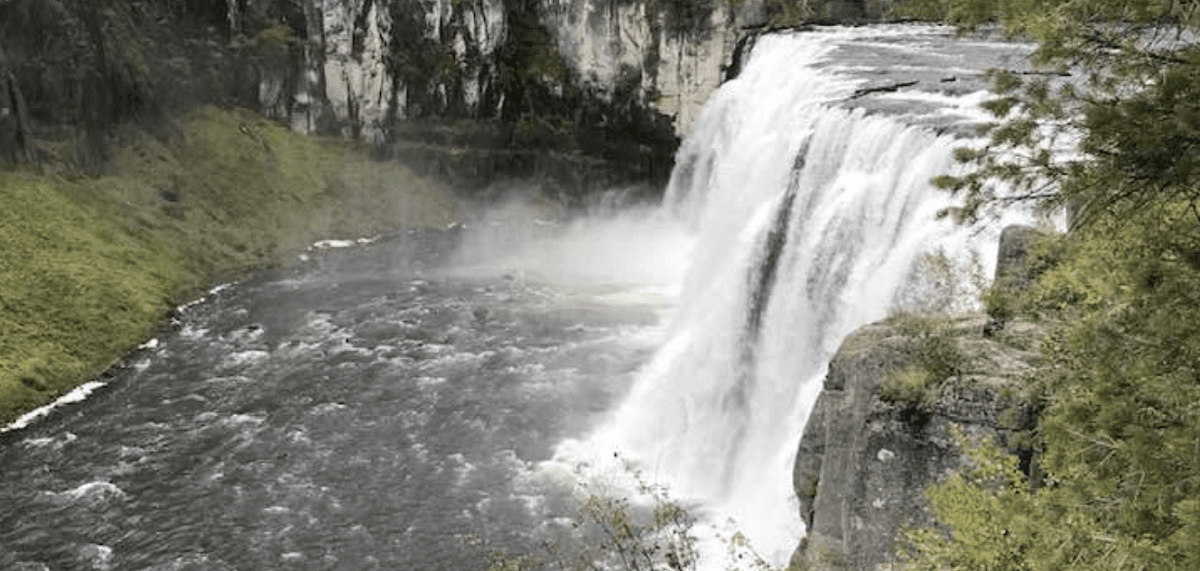 Upper Mesa Falls is one hundred twenty-five feet tall and stretches across almost three hundred yards at its widest point. Water cascades over several rocky ledges before reaching the bottom of the canyon below where it then flows into Henry's Fork River which eventually empties into Island Park Reservoir just south east of Ashton Idaho. The falls are best viewed from an overlook on U S Highway 20 about four miles west from Ashton or from a trailhead at Warm River Campground which offers a closer look without getting wet!
Lower Mesa Falls stands sixty-six feet tall and can be reached via an easy half mile hike along a boardwalk path through forested terrain until you reach an observation point overlooking both falls from below – an amazing view! Although not as large as Upper Mesa Falls there is still plenty to see here including wildlife such as bears, moose deer elk bald eagles and osprey soaring overhead looking for fish in Henry's Fork River below.
The area around these majestic waterfalls offers visitors plenty to do including:
camping
fishing
boating
swimming
bird watching
hiking
biking
horseback riding
OHV trails
snowmobiling
cross country skiing
hunting
There are also a lot of attractions and accommodations around the area such as hotels, restaurants, museums,golf courses, ski resorts and more. The next time you are visiting this beautiful part of Idaho's great outdoors, be sure to put Mesa Falls on your bucket list.
Location and Map of Mesa Falls