Rover.com offers three primary ways to make money caring for dogs: by dog sitting, boarding or walking. We prefer and recommend dog sitting/boarding to make real money.
Dog sitting and boarding are similar and involve you welcoming the dog into your home. Dog walking would be driving to walk someone else's dog. So you'll pick between either dog sitting or walking, because you won't be able to leave your home with strange dogs around to go walk another dog.
About Rover.com
Leaving your furry child behind while going on vacation is one of the hardest things to do. However, just because you have a pet doesn't mean you can't live the life you want and get away for a few days or even a week or longer.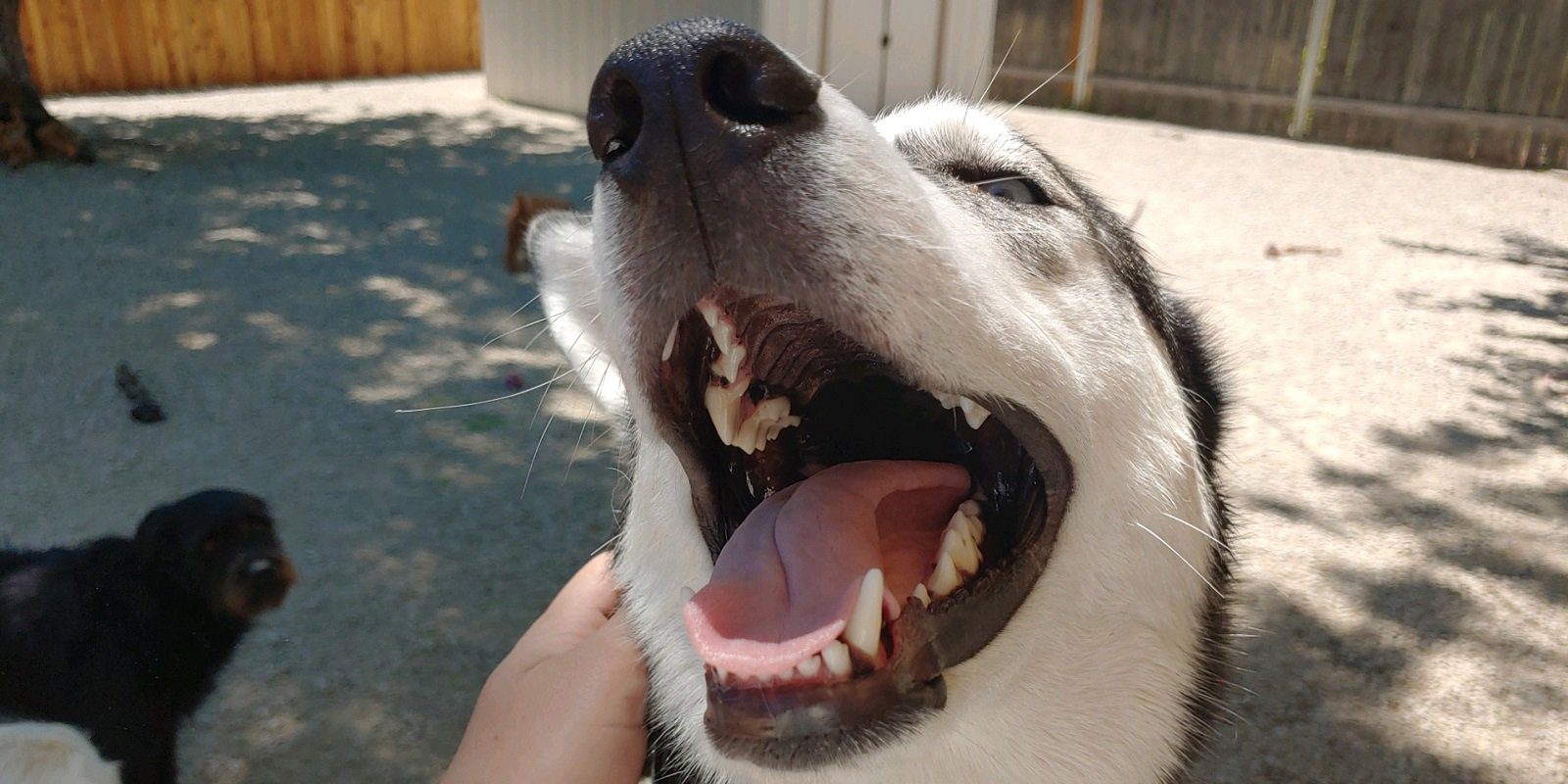 As the pet sitting industry grows, it's now easier than ever to find the perfect person or family to help take care of your loved one. Rover.com has grown into one of the leading websites for people to find dog sitters or walkers to take care of their pups while they are away.
Just like Uber or Lyft, people who are looking for a little side income can sign up. And assuming they pass the background check, be eligible to be found by people in their area who are in need of pet sitting.
Now it goes without saying, watching someone else's dog isn't like driving someone around. There are things you need to know and do in order to make sure any dog that comes into your home is well taken care of.
Benefits of Using a Site like Rover
Rover takes care of the messy paperwork, billing and finding clients. You do what you enjoy.
Personal Attention – Many dogs have never been away from their parents so having them go to a kennel can be traumatizing. Rover allows people the option to either have their dog stay at someone else's home where they can roam free and get some 1 on 1 loving, or even have people stay in their house where the dog already knows the environment and will be less stressed out.
Updates – A good Rover person will constantly send updates on how their dog is doing. From play time to nap time, this can ease anyone's mind knowing their pup is having fun in a safe environment.
Specific Needs – If you have a dog that needs to run all day, loves to cuddle on the couch, or even takes medication, there are sitters online that can help facilitate. When you are looking for people in your area who can help watch your dog, research their profiles and see if they have a large back yard, work from home, have history on giving medication, etc… There is always the perfect person close by that can help accommodate all your dogs needs.
Socialization – Even if you aren't going on vacation and just need help socializing your dog, Rover is a great place to get your pup to meet other dogs and have some fun for the day.
Things to consider before starting Rover
Pet sitting isn't for everyone and there are things you want to think about before signing up. It's a big responsibility to care for another person's animals as they are everything to them.
Here are just a few questions you should ask yourself:
Is your own dog friendly and enjoy the company of other dogs? The number one responsibility is that every dog feels safe and comfortable including your own. If they are very protective of you and show aggression towards other dogs, Rover isn't for you.
Are you ok with dogs on your furniture, in your garden, on your lap, in your bed, etc..? Just like the saying goes, "when the cats away the mice will play." This doesn't mean you can't set rules and boundaries, but just be prepared to turn around for one second and see the furry friends getting into mischief.
Will you be home all the time? Watching dogs is like watching a child. You may be able to get out of the house to go run some errands, but for the most part you need to be home with the dogs. Many can have separation anxiety and they are already feeling stressed out for not being around their parents. If you want to become a dog sitter, be prepared to skip out on nightly activities.
Are you a dog lover? You might say yes right now, but really think about it. Can you devote several hours a day to playing fetch, going on walks, cuddling on the couch, taking pictures, feeding them, etc… There is a lot of work and patience involved with watching dogs and you want to make sure it's something you love to do.
Begin Your Rover Listing
Assuming you asked yourself the above questions and were ok with all of them, it's now time to begin your dog sitting adventure. Rover.com allows you start setting up your profile instantly to be connected to a massive network of pet owners looking for their pups to be watched.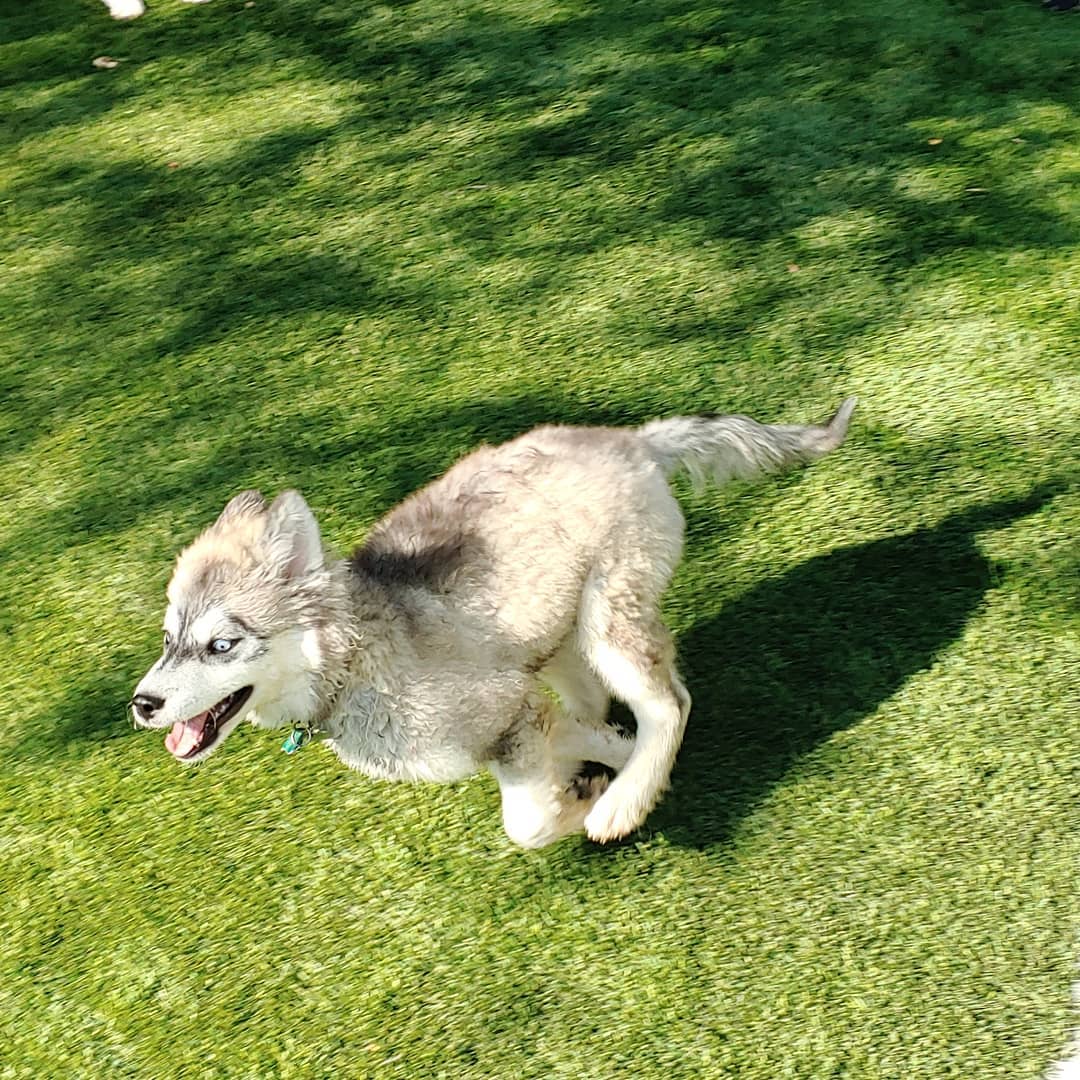 The three options you can select from are dog boarding, dog sitting, and or dog walking. Choose the options you are most comfortable with as you can always expand later on.
Application Process
During the sign up process there is a formal application you will have to fill out. Over the years, Rover has become more strict on their background and screening process and according to them only a third of people get accepted. If you have references or past experience, be sure to include those in the application for the best chance of being approved.
As you are setting up your profile to become a dog sitter, you will be able to set your rates, services offered, when you are available, and a description of yourself and how you will care for all dogs that come through your doors. Take your time as this is the first thing potential people will read and based off how you present yourself will determine if they reach out or not.
Using Rover as a Client
On the other side of the coin, Rover has an extremely easy to use app and website where it only takes seconds to search for people in your area who are willing to watch your dogs. Once you select what dates are needed and enter your zip code, you will be given a list of all potential sitters that meet your criteria.
As you scroll through the list you can read their profile, view testimonials from past clients, and reach out to request a meet and greet if you like.
Getting a Request
Now that you have your profile set up and you are ready to take on dogs, it's now basically a waiting game. You can help increase requests by making sure you set up your rates competitive to other people in your area (maybe even just a little lower until you get reviews and repeat clients).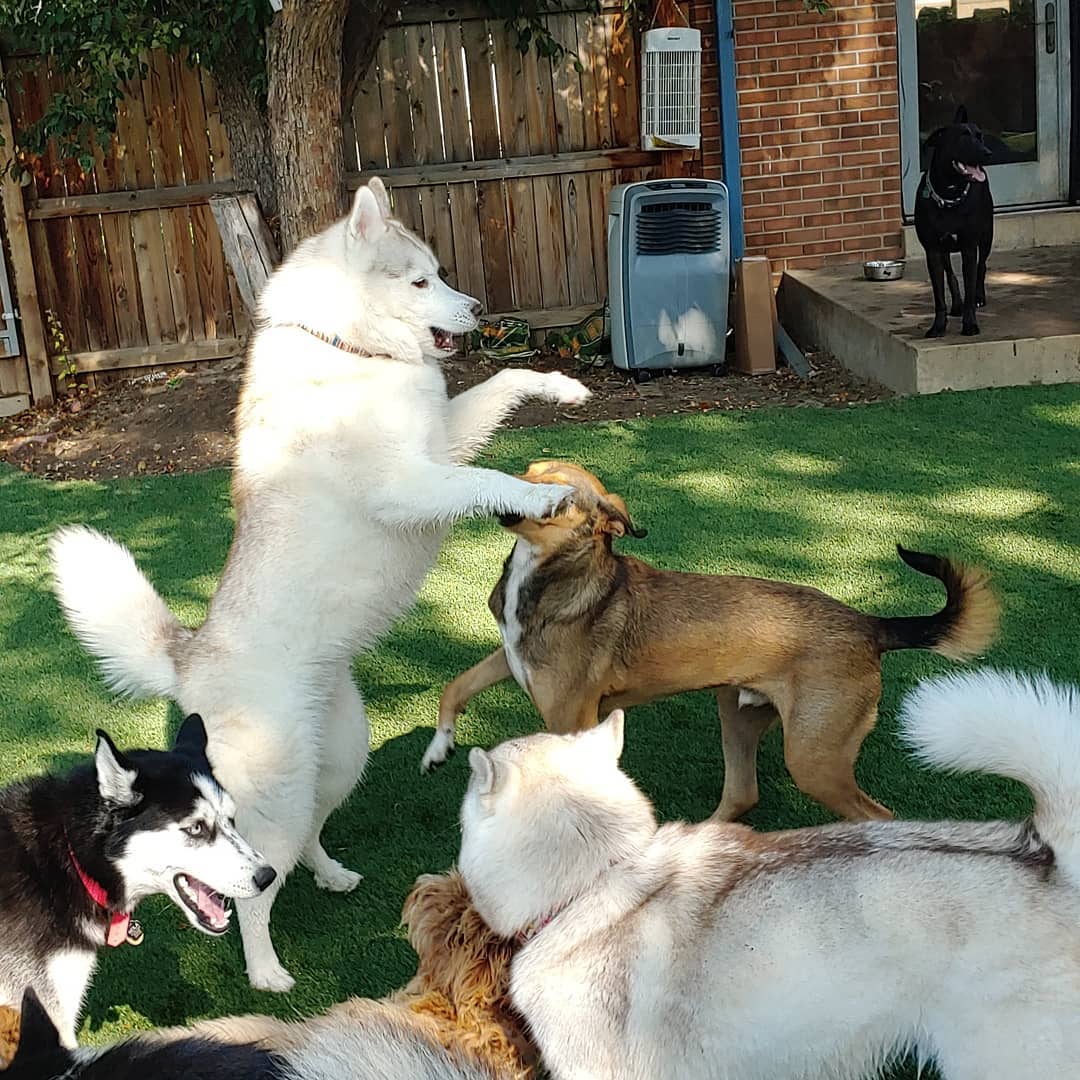 You can also promote your Rover profile on your local Craigslist, which may bring in some interested people.
Meet & Greet
Once you get a request, the first thing you will want to do is introduce yourself and set up a meet and greet. You can either do this at your house or at a nearby dog park.
It's good to offer either option as some people will want to see the place their dog is staying at where others prefer a dog park as it's more convenient for them.
The meet and greet is essential to getting to know the owner's needs, as well as making sure the dog that's coming over feels comfortable with you and any other dogs that will be at your house at the same time.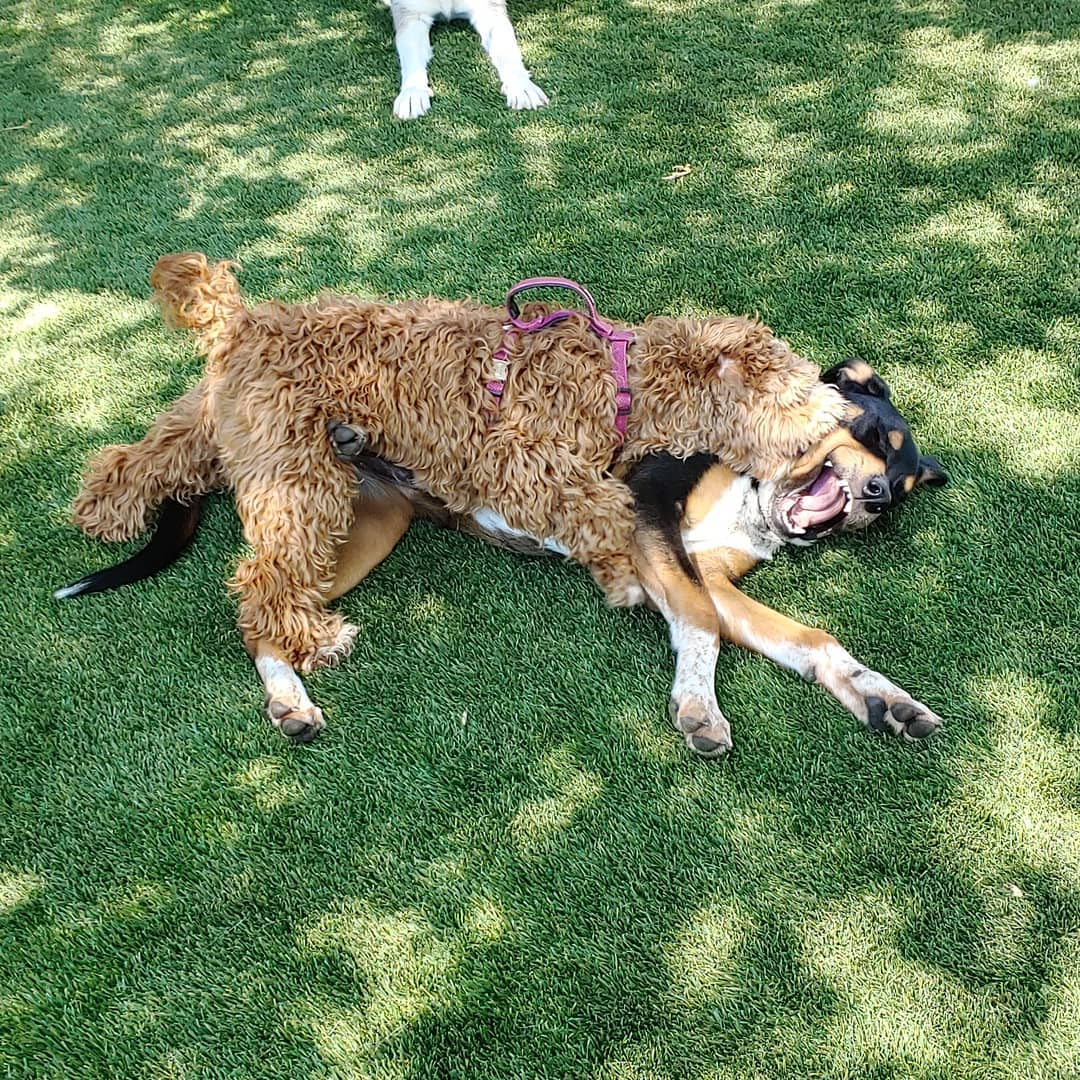 Tips – A few tips to make sure the meet and greet goes well.
If you have any dogs, put them away so the new dog can come into the house and get settled in prior to meeting their new friends. The less stress environment you can make, the easier it will be for everyone.
Try going to a dog park where it's a neutral playing field for everyone.
Give the new dog some space. You need to remember it's a new environment, new smells, and new dogs to meet. This can be overwhelming for most so take your time and let him come to you. It's ok if they stay near their owner as they want to feel safe and protected. Over time as they venture around slowly introduce yourself.
Get to know the dog's owner. This will be your new friend for the next few days or weeks so build a quick relationship.
Ask Questions – This is the time to ask questions about the dog's habits.
When do they eat and how much?
Are they allowed on furniture?
Are they allowed treats (any allergies)?
What is their nighttime routine?
Are they up to date on their shots? Who's their local vet?
The more you can learn about the dogs daily routine, the easier it will be to care for them.
Dog Sitting with Rover
Now for the fun part! Treat the dog as if they are your own and they will fall in love with you. The most important thing again is that they feel safe and comfortable.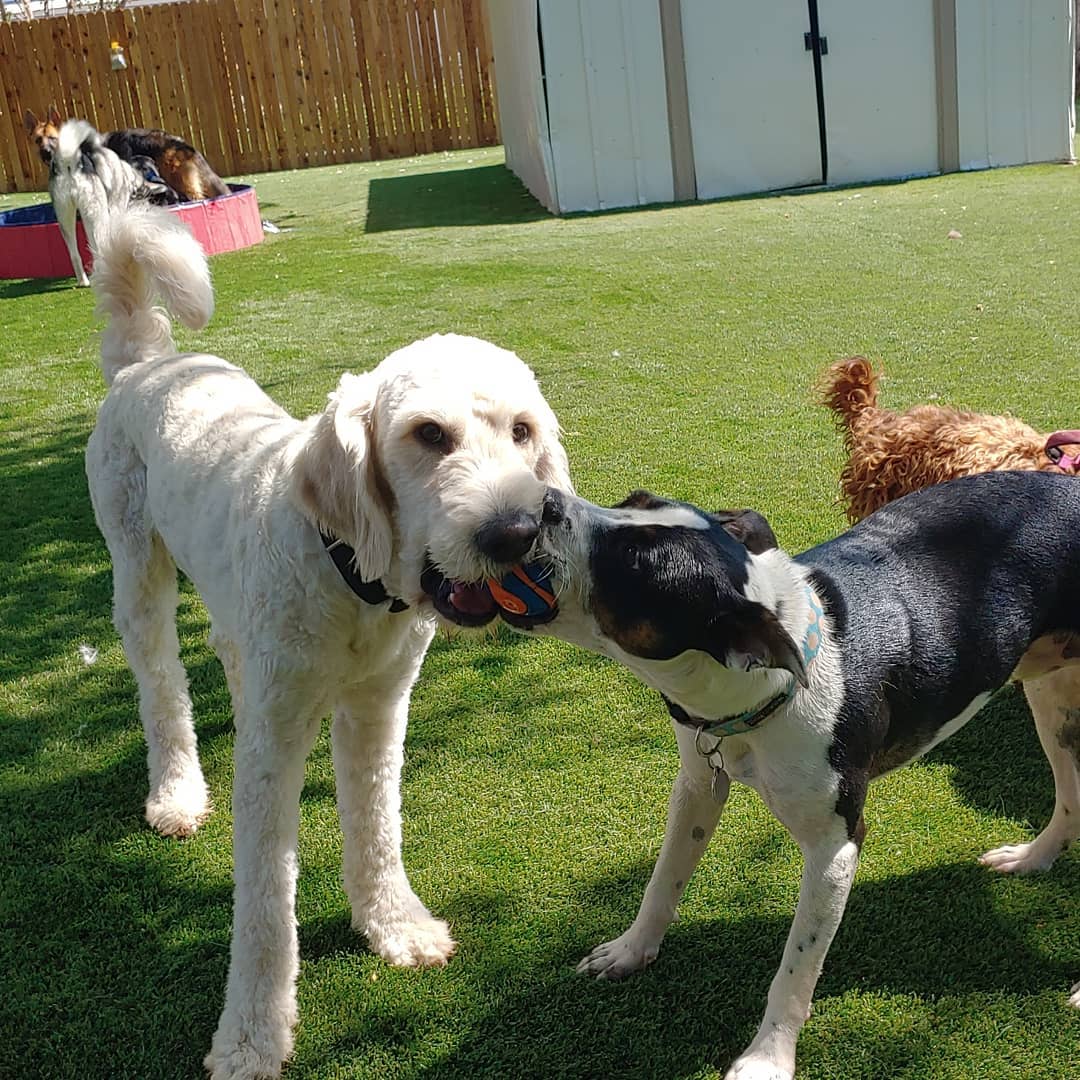 Put out dog beds if that is what they prefer, play some fetch to get them some exercise, or simply give them a nice head scratch. As you bond with your new furry friend they will quickly adapt to your lifestyle.
Pictures, Pictures, Pictures. There is nothing better than getting pictures of your dog having fun. Even if you only send a handful a day, let the owners know how they are doing.
We personally send several every few hours (playing, sleeping, eating, etc…). This gives peace of mind to the dogs owners and will help start a long term relationship for the dog to come back again and again.
How much can you really make on Rover?
There is no real way to determine the exact amount. As you start out on Rover, don't expect to make a steady income as you will need to build up your customer base.
Over time you can easily make a few thousand a month if you treat this as a full time job. According to Rover:
Part time dog sitters average $1,000 a month, which involves watching 2-3 dogs for two weeks out of the month
Full time dog sitters who watch 2-3 dogs 4 weeks out of the month can make on average $3,300
Really grow your income if you are committed
Now if you want to take dog watching to the next level as we have, the best advice is to build a network of daytime dogs. In a course of 8 months we have grown our daytime pack to 10-15 dogs depending on the day (to go along with 3-4 dogs who spend the night).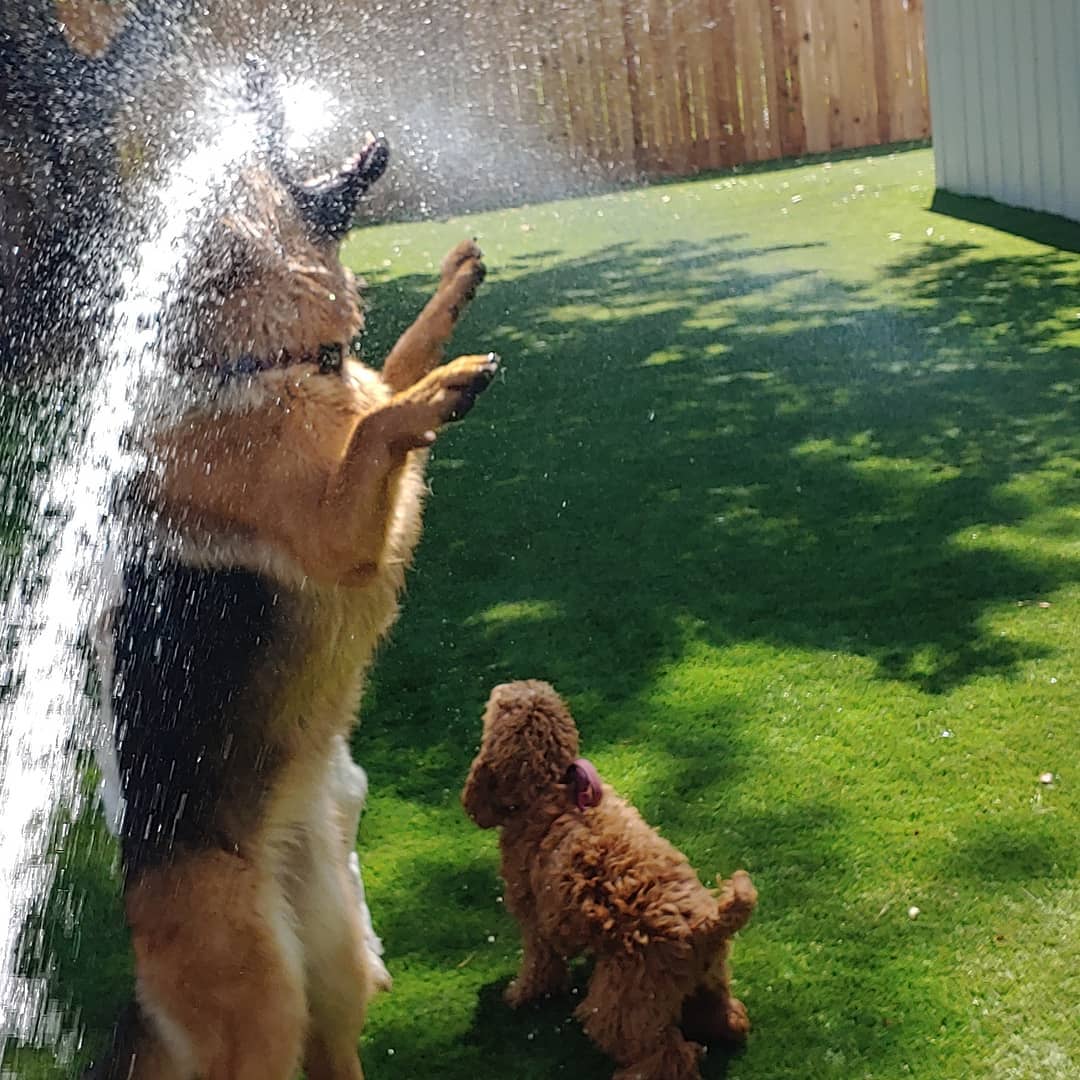 It's taken this long as you want to make sure any dog that comes over several times a week is very social, friendly, and quickly accepting of new dogs into the pack. Once you find your core you can start to grow your dog sitting business and accepting new dogs in.
At this point we make roughly 8-10k a month and plan on leveling out at 12k.
Advice -Some advice for those looking to expand into this line of work.
Make sure you have a house that can accommodate a large group of pups. Dogs love to stretch their legs and if you are creating a dog park environment, be sure you have the room to let them run freely. We have a GPS/activity tracker and with our large fenced-in backyard, most doggies will run 10-15 miles a day. Not only is this great exercise, but they go home happy and exhausted, which is what every pet owner loves to see.
Choose dogs that will fit in well with your pack. If you have dogs that love to play all day, find them friends that will jump in the fun. If you have dogs that rather lounge around, bring in dogs that will hang along side them. Dogs love to be with other dogs, but having a group that share similar interests makes it a less stress environment.
No aggressive dogs. Going back to rule number 1 where every dog needs to feel safe and comfortable, make sure when you do your meet and greet that they get to meet the whole gang. As you slowly do your introductions watch how the new dog reacts. It make take 10-15 minutes for the excitement and sniffs to be over before you can see their true nature.
Really get to know the dog's owners. You're not just building a relationship with the dog when watching them every week.
Patience is key. Dogs will try to get away with everything and when you put 10 together…
A bag of dog treats left on the counter can be gone in a matter of seconds.
On a rainy day you may have a mud crime scene in your house.
The mailman might not enjoy the welcoming party every day.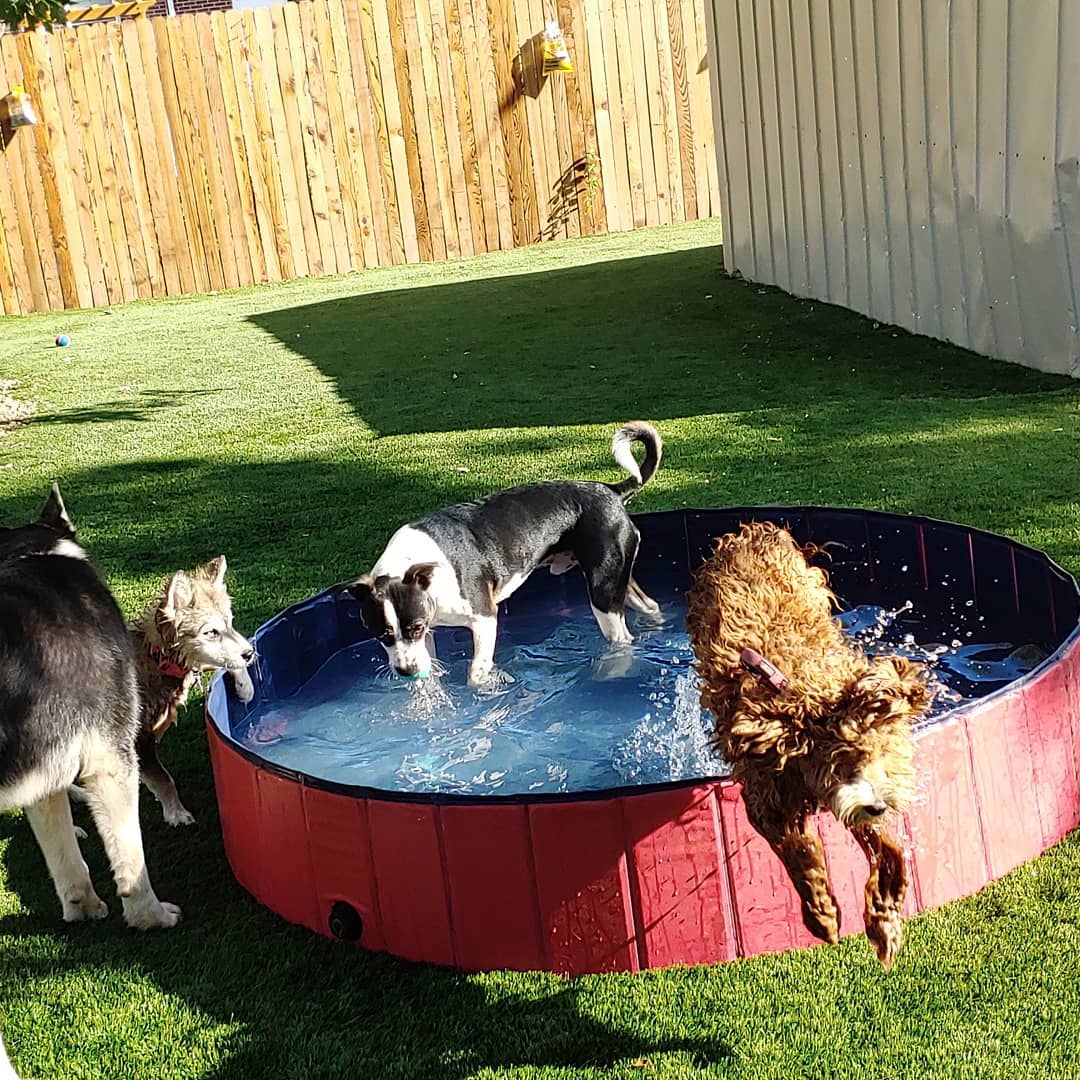 Take your time expanding your dog sitting business and you will quickly make this a long lasting career.