Are you searching for the largest dinosaur in the world? Look no further than Drumheller, Canada. Although this location is pretty far off the beaten path, many visitors love coming to Druheller to get away from the crowds and take in some beautiful scenery.
There are also many local attractions that draws in people including:
Dinosaur Provisional Park
Badlands
Atlas Coal Mine
Horseshoe Canyon
Hoodoos
Star Mine Suspension Bridge
Before we get into camping in Drumheller, we wanted to quickly talk about Dinosaur Provincial Park. Located in the Badlands, this is one of the more popular attractions in Alberta. Not only does it boat the worlds largest dinosaur (a t-rex), but it also has guided day tours through their quarry to see historic fossils. It is completely interactive and you may even catch some excavations an the discovery of a new dinosaur.
Drumheller Camping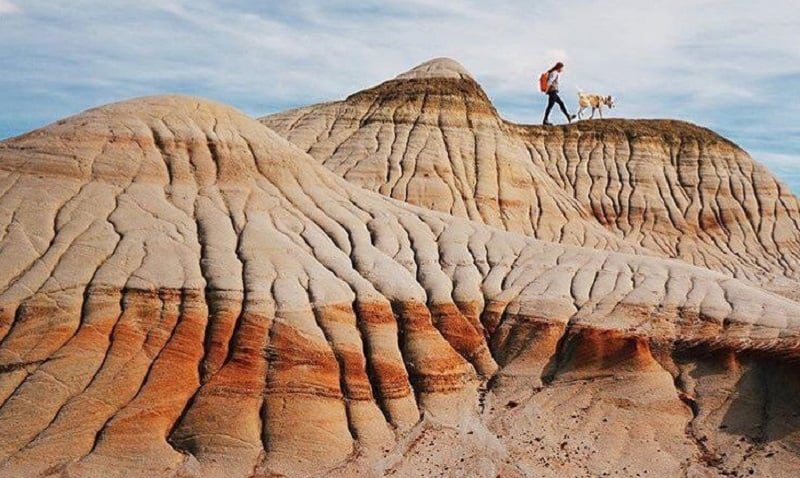 There are several great campsites to stay at in between your adventures. Most come with your standard fire pits and picnic areas, but few are very close to recreational areas such as hiking and fishing.
The campsites come equipped with gas barbeques, so we decided that tonight would be a perfect night for a couple of steaks. Beef is amazing and affordable in Alberta so I bought the most expensive cuts I could find at $7 a piece. Not bad!
Starland Recreation Area
75 Campsites
Fire Pits
Drinking Water
Toilets
Free Firewood
Close to several great hiking trails that take you through some scenic overlooks.
Address: Highway 27, Starland County, Alberta
Michichi Recreation Area
18 Campsites
Fire Pits
Drinking Water
Toilets
Free Firewood
Playground
Close to some good fishing spots
Address: Michichi, Starland County, Alberta
Pope Lease Pines RV Resort
Fire Pits
Drinking Water
Showers
Firewood
This camping site is for people who want to park their RV for the night or weekend. It is a full service park with electrical hookups and some nice hiking trails around the area.
Address: Highway 575, Range Road 221, Carbon, Alberta
Wayne Community Campground
10 Campsites
Fire Pits
Drinking Water
Horsehoes
High Eagle RV Park
60 Campsites
Fire Pits
Toilets
Showers
Convenience Store
This RV Park is nestled on Rosebud River giving several camping areas right on the water. RV campers love this spot for pulling out their kayak or fishing along the banks.
Address: Highway 840 S, Rosebud, AB T0J 2T0
Pinter's Campground Riverside Acres
50 Campsites
We don't have much information on this campground, but we do know it's located right on the Red Deer River and has some great wilderness areas to explore.
Address: 90 Pinter Dr, Langdon, Alberta T0J 1X2
Hoodoo RV Resort & Campground
This is one of the larger camping sites in Alberta.
170 Campsites (135 for RVs and 35 for tents)
Fire Pits
Toilets
Drinking Water
Laundry
Showers
Playgrounds
Firewood
Off Lease Dog Area
Convenience Store
Last Chance Saloon RV & Campground
We also don't know too much about this camp spot other than they have live music venues in the summer months.
Address: 555 Jewel St, Wayne, Alberta
Dinosaur RV Park and Dino's RV Nest
Right next to the largest T-Rex, this is one of the most popular campgrounds due to location.
110 Campsites
Laundry
Fire Pits
Playground
Mini Golf
Address: 5500 North Dinosaur Trail, Drumheller, Alberta T0J 0Y1