The rugged badlands, water-fed natural features, and lush rainforest canopies of South Dakota provide seemingly endless landscapes to explore. There's an adventure to be found in South Dakota with its must-see national and state parks. Outside of the stunning scenery, the state offers a fascinating glimpse into the history and culture of the region through its archaeological sites and museums.
Visitors in South Dakota often spend outdoors at places like Mount Rushmore National Memorial or the sensational Sylvan Lake. Indoor tourist activities include a visit to the Adams Museum in Deadwood or the National Music Museum in Vermillion.
Explore more activities and tourist sites with our list of top things to do in South Dakota.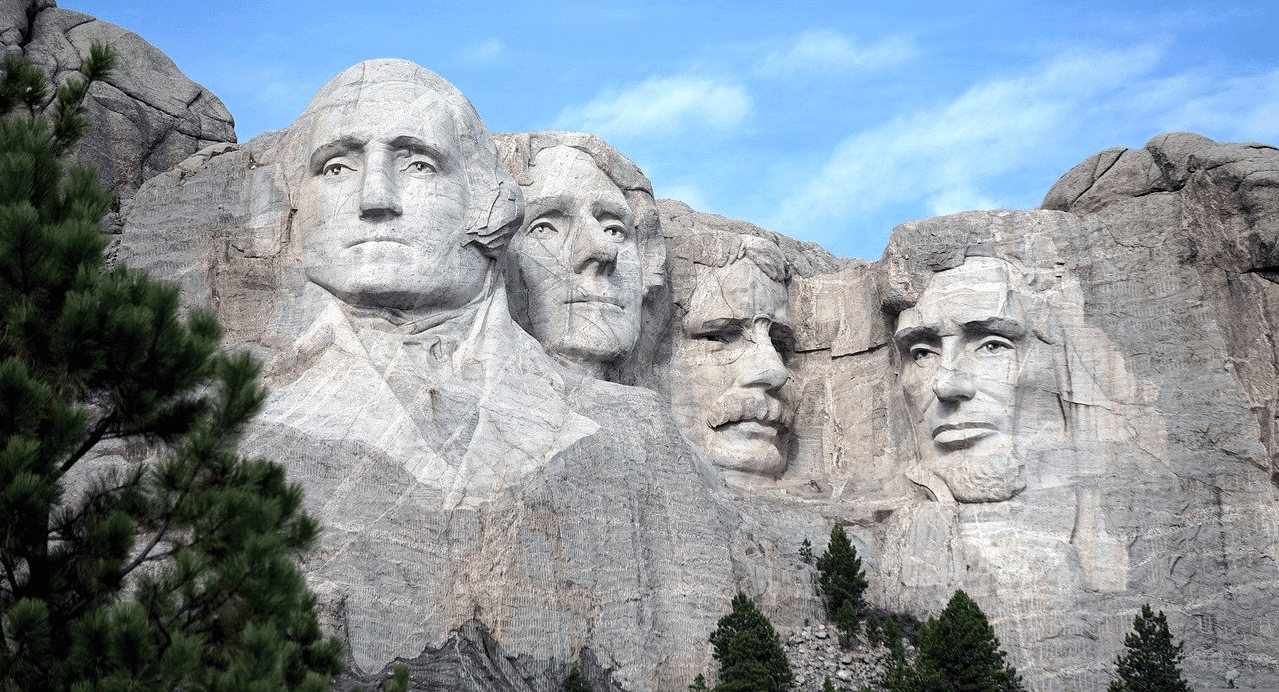 South Dakota is filled with remarkable landscapes, historical attractions, museums, and mountains that will take your breath away. Meanwhile, metropolitan centers like Pierre, Rapid City, and Sioux Falls provide an interesting contrast to the rugged beauty of the badlands. For the most part, South Dakota is prized for its great outdoors that provide nature lovers with a wide range of activities. Its geology lends way to some exciting sights and landscapes for travelers to explore, from the scenic Spearfish Falls to the Jewel Cave National Monument.
Best South Dakota Attractions and Activities
Things To Do in South Dakota by City
For more tips on which places to visit and what sights to explore, look at our list of major tourist destinations in South Dakota.
Mount Rushmore National Memorial
Mount Rushmore pays a patriotic tribute to four prominent United States presidents – George Washington, Theodore Roosevelt, Thomas Jefferson, and Abraham Lincoln – with 60-foot tall faces meticulously carved onto granite on the southeast side. The Presidents have helped shape the American nations' birth, growth, development, and preservation.
The towering sculptures are one of the most visited attractions in South Dakota, with over three million people tourists visiting each year.
Badlands National Park
Badlands National park is one of the main highlights of any trip to South Dakota. Named after rolling hills and scenic badlands, the national park includes a massive tract of sedentary rock layers sculptured by water runoff in the drainage of the White, Bad, and Cheyenne rivers.
Tourists are encouraged to hike or drive through the park to appreciate the natural beauty alongside plenty of bison, deer, and pronghorn sightings.
Badlands National Park is characterized by distinctive rich fossil beds, thousands of acres of prairie, and wildlife.
You can visit the park with your family, friends, or alone because there is something to do for everyone. Even children will find opportunities for recreation and adventure. For example, The Junior Ranch program provides youth camps for children. The Fossil Exhibit Trail provides plenty of hiking trails for all experience levels, dirt roads, campgrounds, and much more.
Custer State Park
For avid hikers and outdoor enthusiasts, Custer State Park is one of South Dakota's best-kept secrets. Attracting horseback riders, bikers, and hikers, the Custer State Park covers more than 70,000 acres of land in the Black Hills of South Dakota.
Surrounded by rolling plains, thick pine forests, and towering mountains, the options for fun outdoor activities are endless. The park is best known for its bike trails, bird watching, swimming, and fishing against the backdrop of picturesque rivers.
Speaking of wildlife, nearly 1,400 bison live in Custer State Park. You may even get a chance to sight bighorn sheep, white-tailed deer, pronghorn, and even the occasional mountain lion sighting. Animal buffs should drop by at Wildlife Loop Road, one of the best places in Custer Stat park to watch wildlife from a safe distance. But don't go near the animals – they are dangerous and unpredictable.
You can also drive around Peter Norbeck Overlook with some of the most incredible roads and majestic views of Mount Rushmore. If you're on location for an extended period, consider booking camping reservations to make the most out of your trip. The campsites feature amenities such as showers, flushable toilets, and Wi-Fi.
With so many breathtaking sights on display, the Custer State Park is a great outdoor adventure that will make you fall in love with the badlands.
Butterfly House & Aquarium
The Butterfly House & Aquarium is a great way of exploring life in the deep blue sea from a comfortable little spot in South Dakota.
The facility is more than just an aquarium though. Not only does it house all kinds of aquatic and marine creatures, but it is also home to a butterfly house.
Different exhibitions of the aquarium have something unique to offer. There is the Shark and Stingray Touch Pool where visitors can get up close and personal with various aquatic species. It is worth noting that the facility started out as a butterfly house in 2002 and expanded into an aquarium 8 years later. The enclosure has all sorts of butterfly varieties from around the world.
While you're at the aquarium, try to take part in various programs and projects that are held throughout the year. Children, in particular, would enjoy the events.
Deadwood
Deadwood is more than just your average historic town. It is lined with shops, signs, and historical points of interest. Stop by Historic Main Street, where professional actors recreate important moments from Deadwood's past, creating a live show to entertain the excited crowds.
Or check out any of the three Main Street Shootouts and the famous Trial of Jack McCall; each performance provides a riveting account of the state's history.
In addition to several local restaurants, Historic Main Street in Deadwood is lined with gunslingers parading around the sidewalks. Historical landmarks include a signpost indicating where Jack "Crooked Nose" McCall assassinated wild Bill Hickok.
You'll never be out of ideas for what to see or do when visiting Deadwood.
Spearfish Falls
Spearfish Falls is located at a stone's throw away from Latchstring Restaurant in the heart of Spearfish Canyon and is home to one of South Dakota's biggest waterfalls. The gushing 47ft waterfall provides a breathtaking sight to behold. Little Spearfish Creek is known as the best place to photograph South Dakota's natural wonder.
A hiking trail brings you to Spearfish Falls and is suitable for all experience levels, although the trail can be slightly slippery due to the must generated by the waterfalls. You can also admire the beauty of Spearfish Falls without having to hike by staying at a local restaurant. Don't forget to bring your camera here because this is a wonderful opportunity for photographs.
Good Earth State Park
This state park has plenty to offer, from beautiful campgrounds to gorgeous lakes and accessible hiking trails. Visitors can explore the River Trail, which connects to other loop trails. Most trails are less than one mile long, and you'll find benches along the way to sit and relax.
Seasonal recreation such as swimming, kayaking, and hiking make Good Earth State Park the ideal travel destination for tourists looking to connect with nature.
The Big Sioux River, which passes through the park, offers plenty of outdoor activities and water sports for visitors and locals alike to enjoy.
Porter Sculpture Park
Artists have long found inspiration in South Dakota's rich cultural heritage and sweeping landscapes. It's not surprising that the state boasts a dynamic arts scene at Porter Sculpture Park, which depicts the history, culture, and landscape of the state. The park runs the gamut from self-taught sculptor Wayne Porter's collection of renderings of larger-than-life sculptures.
Gorgeous murals and symbols can be found throughout the park and photographed. Unlike most museums that encourage a hands-off approach, this South Dakota gem allows visitors to interact with each piece. If you ever get tired of strolling the park, you can rent golf carts to see rare artwork.
All in all, Porter Sculpture Park should be on your travel list if you want to see outlandish sculptures.
Rushmore Tramway Adventures
Enjoy a breathtaking gondola ride at Rushmore Tramway Adventures with panoramic views of the sky and 100 treetops. Thrill-seekers can up the ante by zip-lining through one mile of forest and reaching heights of over 400 feet – but the activity isn't for the faint of heart.
Not comfortable with zip lining? You can try other action-packed adventures – from chairlifts and tubing hills to the 60-foot tall Jump Tower that pushes you to your limits.
Once you've had your fill of soaring the skies, cap off the experience with lunch or dinner at the Mountain-Top Grille where every table has a view of Mt. Rushmore.
Bear Country USA
Bear Country USA gives you a chance to get up close and personal with Black Bears. The sprawling safari park features a two-mile paved drive where bears roam free and may even come right to your vehicle. Don't come out to pet them because bears can be deadly.
Kids are bound to love the experience because animals bring out their curiosity. This is one of the reasons why the safari park is so awesome. It's because visitors get to see these attractions and see their kids brimming with awe and love for other animals.
But there's more to Bear Country USA than just bears. There are dozens of species that call the park home – after all, the bears have to eat!
After the safari drive, you can visit an actual zoo with various enclosures holding different animals. The wildlife center here has timberwolves, mountains lines, and even arctic wolves. Finally, make sure to visit the local gift shop where you can buy a range of souvenirs and novelties for your loved ones.
Bear Country USA was founded by renowned dentist Dennis Casey in Rapid City in 1972 and only had a few animals compared to today. Only 11 bears, one mountain lion, three bison, and a bulk elk lived here. The park is operated by descendants of Dennis Casey.
Sylvan Lake
South Dakota is home to the scenic Sylvan Lake. Take a detour of the lake to find awe-inspiring campsites and sites. Sylvan Lake is a known recreation sport, attracting both local and international travelers. Most people come for outdoor activities, including camping, boating, picnicking, kayaking, and fishing.
Or you could just go back and take in the stunning views of the gorgeous backdrop. If you are interested in paddling, there are several paddle boats available for rent. Hiking is a popular activity with several trailheads at Sylvan Lake leading to an intricate circuit of fun trails.
For an overnight stay, Sylvan Lake Campground offers fully-equipped campsites where you can live close to the lake and hang out with friends. You can also bring your pets to have a fun outing here.
Black Hills National Forest
This forest in South Dakota is a little slice of paradise teeming with wildlife and stunning scenery to explore, and it is particularly gorgeous in the fall months. If you are looking for the perfect place to explore the forest in its natural setting, then Black Hills National Forest definitely warrants a visit.
The mountain-clad forests offer a wide range of outdoor activities, including camping, mountain biking, and hiking. The tranquil forest ranges in the landscape with spiraling slopes, verdant forests, and dramatic creeks that add to the scenic atmosphere.
Stop by at Badlands National Park to gaze upon thousands of stars in a clear night sky. See everything you couldn't see from any densely packed city, including the Milky Way galaxy, planets, and comets.
There's also a 'wine trail' along Highway 385 that connects five different wineries and tasting rooms for you to enjoy. This shouldn't come as a surprise because South Dakota is home to plums, rhubarb, grapes, and chokecherries, making it the ideal place for beer aficionados.
Jewel Cave National Monument
Located just under the Black Hills of South Dakota is the Jewel Cave National Monument with amazing crystal formations and underground cave systems. It's easy to visit and free to enter, but you should watch out for the dark and treacherous terrain. Younger children are advised to wait this one out until they are older.
There are nearly 200 miles of mapped passageways to explore with interesting crystal formations. The dramatic cave system makes for some phenomenal photos, giving tourists a sneak peek of the beauty that lies under the earth's surface.
Dakota Discovery Museum
To get a firsthand look at the state's unique art scene and cultures, a visit to the Dakota Discovery Museum should be your top priority. It is a unique museum ideal for both adults and children. The museum also provides a clear window into South Dakota's territorial beginnings.
The facility features exhibits, artifacts, and information about the state's most important Native American artifacts from the 1800s.
Of note are the family nights that provide a hands-on experience that inspires people to learn about South Dakota's art, history, and culture.
Lake Thompson
The sprawling lake is spread out over 40,000 acres of land and is one of the largest natural lakes in South Dakota. It has a shoreline of over 70 kilometers, making it perfect for water sports and other recreational activities. Anglers flock to the lack to fish for yellow perch, sunfish, pike, and walleye. It also attracts outdoor enthusiasts for its extensive hiking trails and camping facilities.
The main highlight of the lake is the Thompson Recreation Area, which is open year-round and features five cabins, 103 campsites, and a beach that offers water skiing.
With that said, the best time of year to visit Lake Thompson for warm-weather activities is from June to September – that's when the weather is pleasant and the waters calm.
Black Hills Balloons
Black Hills Balloons lets you explore the beauty of the state from above. It's like being suspended from a hook in the sky where you can enjoy the beautiful scenery. Soaring across the tops of the trees is an adventure that you'll never forget as you get to see lakes, prairies, and valleys.
Your parlor will steer to iconic sights in South Dakota, such as Mount Rushmore and Badlands. Special arrangements for different areas can be available upon request and subject to the weather. Children should be tall enough to see over the edge of the basket in order to enjoy the sights. After all, if they can't see outside the balloon, they'll quickly get bored.
The splendor of soaring above the earth in a hot air balloon cannot be put in words, and has to be experienced.
Mitchell in South Dakota
Mitchell is home to the only "Corn Palace" in the world, a structure that looks like it was pulled from the pages of a children's book. The walls of the Corn Palace are covered in murals made from corn. Every year, the murals on the walls are replaced with 275,000 ears of corn grown by a local farmer.
But there's more to the town of Mitchell than the Corn Palace. The historic town is filled with archaeological sites, camping spots, specialty shops, and an opportunity to experience all four seasons.
Visit the Guns of History Gun Gallery to gaze at a unique collection of guns. You'll get to see iconic guns that had a role in shaping modern South Dakota. Guns worth mentioning include those used in Custer's 7th Calvary and Sitting Bull's shotgun. Most visitors are surprised to learn how guns have been a large part of America. You can also bring your question to tour guides who are very knowledgeable and passionate.
After touring the main street and museums, you can stop by at the dozens of cafes and restaurants to refresh and rejuvenate.
Falls Park
From cascading waterfalls and scenic views to farmer markets and inviting cafes, Falls Park is rated as one of the most fun places to visit in South Dakota. It is spread out over 130 acres of land where 8,000 gallons of water plummet 100 feet to the Sioux River every second. The view of the falls is simply jaw-dropping.
Visitors can take sweeping views of the falls from an observation tower and viewing platforms. You can also hire a tour guide to give you a walkthrough of the entire park.
The park is also home to an abundance of hiking trails that wind their way through the waterfalls. There are more than 30 trails that you can explore with friends and family. Popular activities at the park include hiking, biking, or running against the backdrop of the waterfalls
Besides admiring the cascading waterfalls, other popular things to do at the park include visiting the ruins of Queen Bee Mill that is said to have harnessed the power of the river for enterprise activities.
Local cafes and restaurants serve lunch, dinner, and even live music to visitors. Don't forget to check out the historical sculptures as well as explore various amenities such as playgrounds and water fountains.
The park plays host to a lively farmers market every Saturday in the months between May through October.
Old Courthouse Museum
The Old Courthouse Museum is a three-story building made of Sioux Quartzite stone. It houses several interesting exhibits, including murals on the walls that show the history of South Dakota from an earlier era. The museum contains a combination of permanent and rotating exhibits.
Every exhibit at the museum expounds on the rich cultural heritage of the region. Admission to the museum is free but donations are encouraged.
Besides the eye-catching murals on the walls, the museum has a number of historical artifacts that give you a brief glimpse into the past.
The museum also hosts a number of community events including Halloween parties, concert series, and lectures.
The McCardle Research Library is home to over 1,400 historical volumes including business directories, marriage records, and cemetery records.
Spearfish Falls
Spearfish Falls is one of the best waterfalls in South Dakota and provides a stunning backdrop to picnickers and hikers alike. The hike to see Spearfish Falls requires a 1.5-mile round trip. You can follow a trail that skirts along a fence of the gorge carved out by Spearfish Creek.
Much of the terrain leading to the falls is easy to traverse. However, the scenic waterfall is well worth the trouble.
It is situated in a scenic part of Spearfish Canyon, which surprises the onlooker with its steep, craggy cliffs. These features are not characteristic of South Dakotan geology, a mostly flat state that doesn't have such landscapes.
Spearfish Falls used to be a popular tourist attraction since the late 1800s. Locals would take the Chicago Burlington Quincy Railroad that would stop on the trestle above the falls. A massive flood damaged this trestle in 1933.
Interestingly enough, the falls didn't have any flow because a mining company expanded its operation and choked the water supply. The mining company has since closed up shop in 2002 and the flow to Spearfish Creeks was restored.
It is recommended to bring a trail map and route finding capabilities to visit the falls.
Crazy Horse Memorial
The Crazy Horse Memorial is the largest mountain monument measuring at an imposing 563 by 641 feet. Its size boggles the onlooker because the sculpture is as long as a cruise ship, all the while a face eerily stares back at you. Just like Mount Rushmore, Crazy Horse Memorial is carved into the hillside of the Black Hills.
The hulking sculpture was the work of Polish artist Korczak Ziolkowski who died in the 1980s before he could finish the project. Despite being unfished, the uncanny face of Crazy Horse is a captivating feature of the hill and serves as a popular attraction.
Visitors can also explore three museums that provide a glimpse into Native American culture and history. Together the museums feature over 12,000 historic artifacts from pre-Columbian times.
Crazy Horse Memorial is open to visitors everyday from 8 AM until sunset, if you ever happen to visit the site at the end of September, keep an eye out for the popular laser-light show projected on the mountain carving.
Start Planning Your Trip to South Dakota
These are just a few of the best things to do in South Dakota. Whether you're vacationing, backpacking, honeymooning, or simply traveling for the fun of it, add some of these destinations on your travel itinerary. Regardless of the length of your stay, hopefully, this list has helped you narrow down the places to visit in South Dakota. Let us know which of these places you plan on visiting and if we should expand on this list.