Encinitas is not a part of the city of San Diego, but rather, a coastal city in the northern part of San Diego County. The city is known as the "Flower Capital of the World" due to its myriad of botanic gardens, including the San Diego Botanic Garden. Furthermore, this beach is known for its strong connection to surfing and surf culture.
Swami's Beach, otherwise known as Swami's Reef, or simply as Swami's, is an international surfing landmark. The beach features a point break that creates extended waves that roll in from hundreds of yards offshore.
Unlike some other popular surfing spots, the sand and the water at Swami's Beach are not unsuitable for regular beachgoers. On any given day, you'll find a crowd of sunbathers and swimmers enjoying this legendary surf spot.
Activities
Swimming, sunbathing, surfing, whale watching, and tide-pooling.
There are a number of places to eat within walking distance of the beach.
There are no lifeguards, so swim at your own risk.
Dogs are not allowed on the beach.
Amenities
Restrooms, showers, benches, picnic tables, a grass park, and barbecues.
There is a free parking lot, but it can fill up quickly. Alternate parking is available along Highway 101.
Nearby Attractions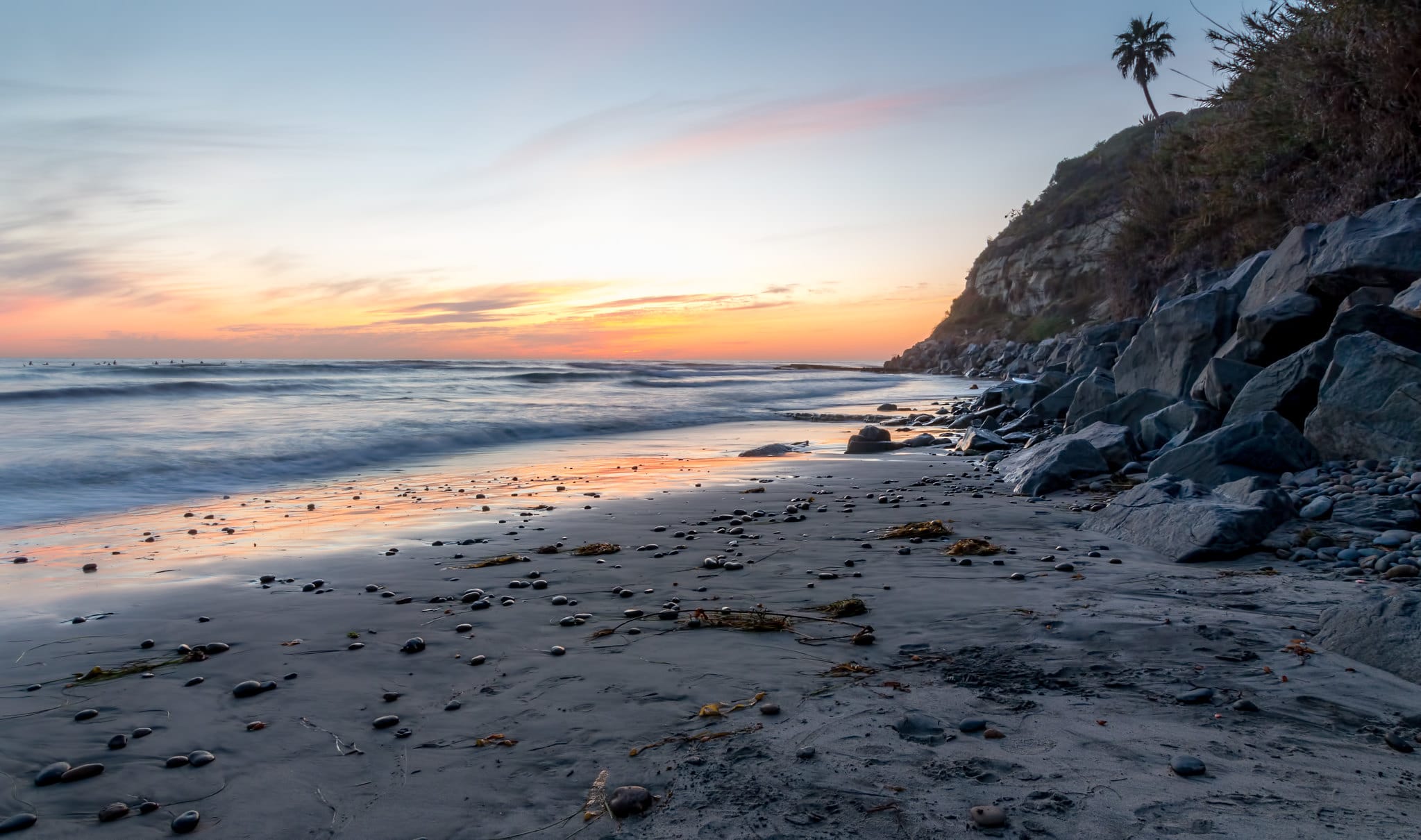 North of Swami's Beach is Boneyard Beach, a narrow but scenic beach located below some steep bluffs. It's another popular surfing spot that's also good for laying out in the sun. Bear in mind, though, that this beach is clothing optional.
South of Swami's Beach is San Elijo State Beach. The walk is significant, and it's only possible to get there when the tide is low enough, but you'll find campgrounds, a camping store, restrooms, showers, and a Mexican restaurant there.
Above Swami's Beach is Sea Cliff Park, a great vantage point to watch the surfers from.
Fun Facts
The Beach Boys' 1963 hit "Surfin' U.S.A.", in which the lyrics list a number of the most famous and popular American surf spots, mentions Swami's Beach.
The name Swami's Beach comes from the Swami Paramhansa Yogananda, who is credited with spreading the practice of meditation and yoga to millions of people around the world, and who once called the city of Encinitas home. Swami Paramahansa Yogananda's ashram, the Self-Realization Fellowship, overlooks the area known as Swami's Beach.
Details
Location: 1298 S Coast Highway 101, Encinitas, CA 92024
Season: Year-round
Pets: No
Website: sandiego.org…