Mooney Falls is a breathtaking waterfall located in the Havasupai Indian Reservation, Arizona. The falls are one of the most spectacular waterfalls in the United States and can be accessed by hiking through miles of rugged terrain. Mooney Falls stands at an impressive 200 feet tall and is made up of swirling turquoise waters that cascade down from a towering sandstone cliff face.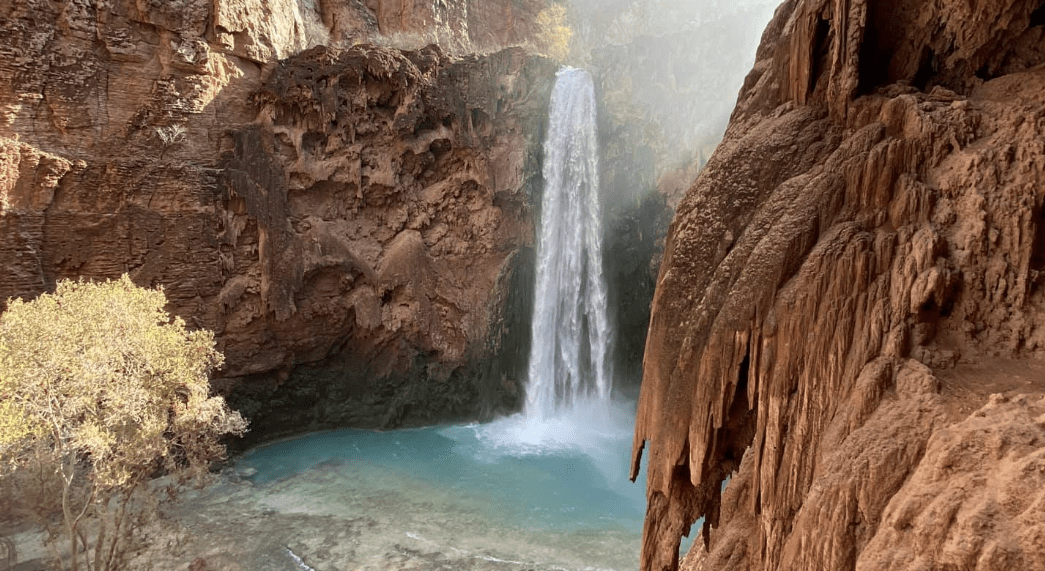 Details about Mooney Falls
The hike to Mooney Falls begins at Hualapai Hilltop, where visitors must descend into Havasu Canyon on steep switchbacks before reaching Supai Village. From there, hikers must traverse two more miles before arriving at Mooney Falls itself. Along the way, hikers will encounter several other beautiful waterfalls, including Beaver Falls and Fifty Foot Falls. As they travel further along the trail they'll also come across ancient petroglyphs carved into canyon walls as well as breathtaking views of red rock formations rising up from below them in all directions.
Reaching Mooney falls requires courage as it involves climbing down slippery ladders set against sheer cliffsides with no guard rails or safety ropes provided for assistance; however, this makes for a thrilling journey that's sure to leave you breathless! Once you do make it to the bottom of these magnificent falls though you'll be rewarded with stunning panoramic views of crystal clear blue-green pools surrounded by jagged rockscapes – perfect for taking some unforgettable photos or simply sitting back and enjoying nature's beauty!
The area around Mooney Falls is teeming with wildlife such as bighorn sheep, mule deer and bald eagles so keep your eyes peeled while exploring here! Additionally if you're feeling adventurous enough why not take a dip in one of its many secluded swimming holes? These pristine natural pools offer refreshing relief during hot summer days when temperatures soar above 100 degrees Fahrenheit (37 Celsius).
Mooney Falls truly offers something special that few other places can match; whether you're looking for an adrenaline rush or just want to relax amidst nature's wonders – either way this majestic destination should not be missed!
Location and Map of Mooney Falls