La Jolla Shores Beach has a little bit of everything: beautiful sand, inviting waters, great surf, a boardwalk, nearby shops and restaurants, and a park with a playground. It's also a popular spot for snorkeling and inexperienced scuba divers, and you can even catch some sunbathing seals nearby.
There are a number of great beaches to check out in the beautiful seaside neighborhood of La Jolla, but La Jolla Shores is the most family-friendly and well-rounded. Head over there for a picture-perfect Southern California day in the sun.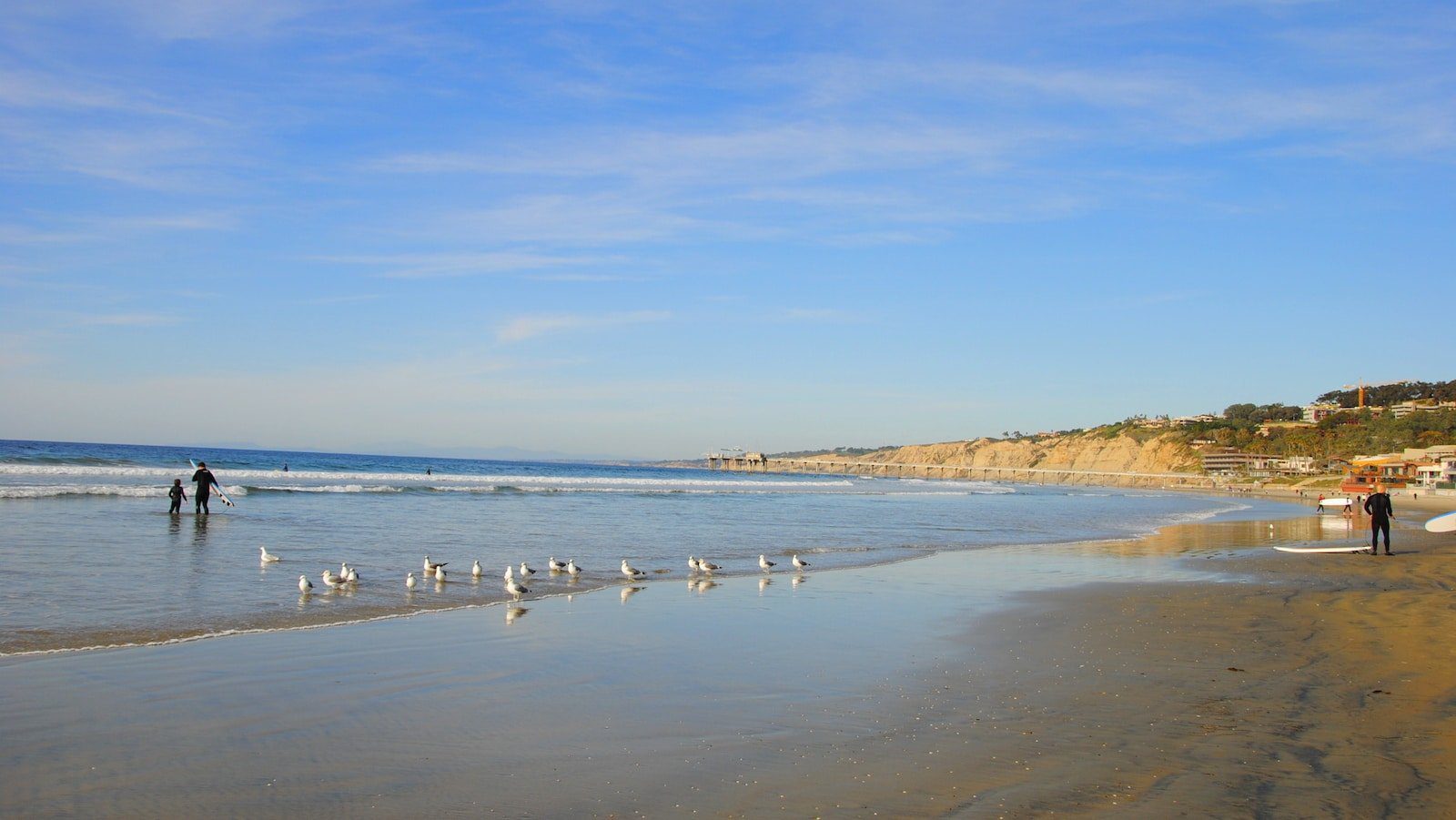 Activities
Swimming, sunbathing, surfing, bodyboarding, stand up paddle boarding, scuba diving, snorkeling, kayaking, picnicking, and volleyball.
Kayak and paddleboard rentals, as well as surf lessons, are available at the beach.
Scuba diving lessons, as well as scuba diving tours through the nearby ecological reserve, are available.
Dogs allowed on the beach before 9 AM and after 6 PM from April through October and after 4 PM November through March.
Amenities
Restrooms, showers, lifeguards, picnic tables, rental services, grass park, playground, fire pits, and volleyball courts.
Public parking is available but it can fill up fast, get there early.
Nearby Attractions
Kellogg Park is right across from La Jolla Shores Beach. There you'll find two large grassy areas with picnic tables and a play area for children.
Scripps Beach is right near La Jolla Shores Beach. It's a far more serene spot that's popular for surfing, swimming, and kayaking. There's also the nearby Caroline's Seaside Café, which offers beautiful views.
There are kayak tours available that will take you through the nearby sea caves.
La Jolla Cove is about ten minutes southwest of La Jolla Shores Beach. La Jolla Cove is a great place for scuba diving, snorkeling, swimming, and birdwatching. You can also hike the La Jolla Coast Walk Trail from there.
Fun Facts
La Jolla Shores is a filming location for the TruTV show "Beach Patrol "and the Lifetime show Lifeguard.
Like Swami's Beach, La Jolla is mentioned in the Beach Boys' 1963 hit, "Surfin' U.S.A." in which the lyrics list a number of famous and popular California surf spots.
Details
Location: Camino Del Oro and Calle Fescota, La Jolla, CA 92037
Season: Year-round
Pets: Yes, on-leash | Before 9 AM and after 6 PM (April – October) | Before 9 AM and after 4 PM (November – March)
Website: sandiego.org…