Hiking in Boston: 7 Best Hiking Trails Near the City
Boston is a place where you can surround yourself with a rich culture and history. As an extremely historically significant city — especially for history buffs that focus on the American Revolution — it houses numerous museums and cultural performances in the fields of art, theater, and music that can entertain and educate you.
But more than being a hotspot for history, culture, and the arts, Boston also features a wealth of parklands and open spaces where you can walk, hike, enjoy the vast landscapes, and just breathe in the fresh air.
If you're looking to get some steps in between shows or museum tours, take a look at seven of the best hiking trails in and around Boston; you won't regret the trek. If you're a lover of the great outdoors, you don't need to go to far-flung places to get your dose of greenery, sunshine, and nature. Boston is rich in picturesque hiking spots that can get your adrenaline going.
Among tons of amazing hiking trails in the area, the following are seven of the best:
Emerald Necklace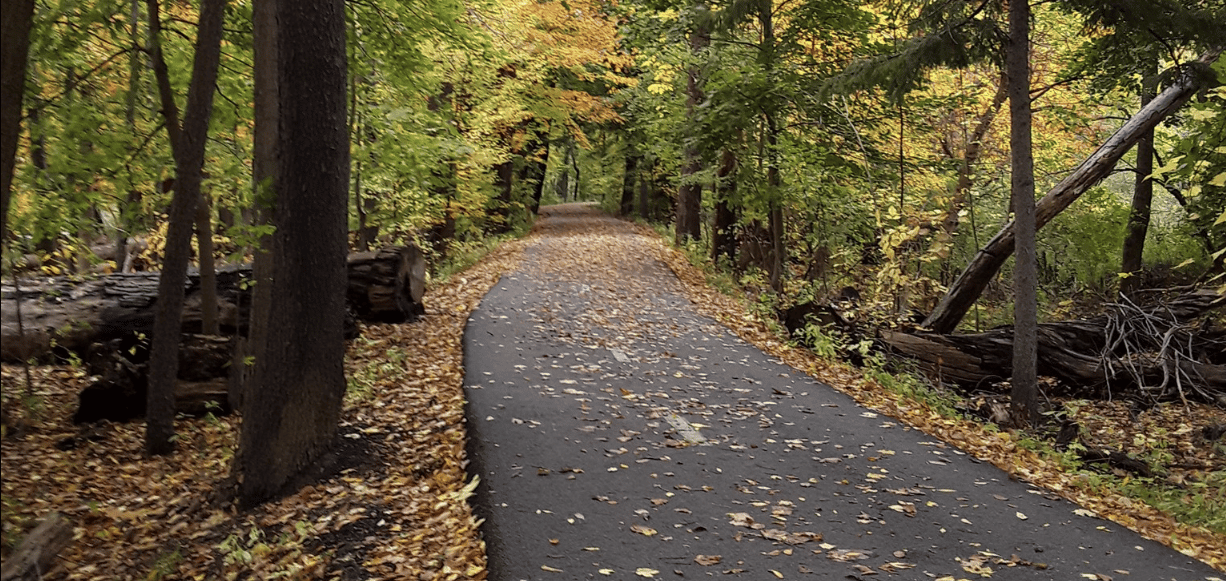 The first on the list is Emerald Necklace, which was developed over 100 years ago. Back then, a prominent landscape architect by the name of Frederick Law Olmsted had a vision to create a green space that connects the suburbs to downtown Boston. To this day, his designs of the Emerald Necklace remain intact. It spans over 1,000 acres of land and encompasses several parks, from Boston Common all the way to Franklin Park.
But don't be overwhelmed by the numbers. Because of the great scenery along its path, you wouldn't even realize how far you're walking. Before you know it, you'll have already traveled the entire seven miles.
If you get tired of walking and need to rest your feet, you can choose to go to the nearest stop and take public transportation to where you want to go. The route will pass by numerous attractions like the Boston Swan Boats, the stunning rose garden, the Fenway Victory Gardens, the Arnold Arboretum, a vibrant wildflower meadow, and even a fun zoo.
With so many activities to choose from, this hiking trail is a great way to immerse yourself in not just nature, but Boston's rich culture, as well.
Blue Hills Reservation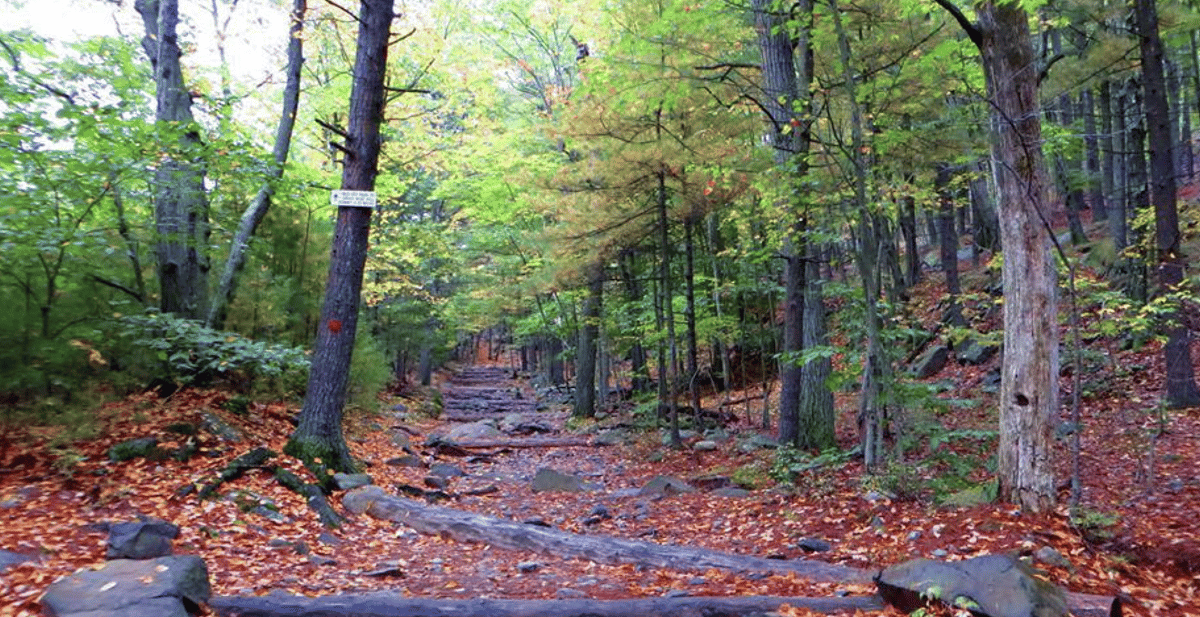 Another incredible opportunity for hiking in Boston is the Blue Hills Reservation. The area spans around 7,000 acres of land that stretches from Milton to the South of Boston. In addition, it has a 635-foot summit, the highest of 22 blue hills in the reserve.
While it can be quite a hike to get to the summit, you will be rewarded with a breathtaking view of the entire Boston metropolitan area. From there, you can revel in the picturesque scenery and absorb the glorious beauty of Boston.
But before you get there, your journey will involve varying terrains. Along the way, you'll pass by different swamps, ponds, marches, forests, meadows, and rocky scrambles. Because of this, the trip will be quite an exercise.
To make your experience exciting yet safe, you can get maps at the headquarters before starting your journey or ask help from rangers along your route to find the best path to take. Everything is managed properly to ensure that you have a comfortable and enjoyable hike across the Blue Hills Reservation.
The Atlantic Path and the Halibut Point State Park

If you want to experience something equally fascinating and educational, then you should try The Atlantic Path and the Halibut Point State Park. This 1.6-mile loop trail located near Rockport is only an hour North of Boston. It's considered a relatively easy route, and it usually only takes around 35 minutes, on average, to complete.
Here, you can do more than hike. The area is also great for biking, running, relaxing, or birding. As an interpretive trail, you'll get to know the fascinating history of Halibut Point and get inside information about the operation of the quarry. If you want to learn more about what goes on in this park, you can go to the museum or the visitor center.
Due to its popularity, there's a high chance that you will encounter other people exploring the park either by themselves, with their friends and families, or with their pets. You'll also come across many varieties of small birds, since the park is covered in shad and bayberry.
It's safe to say that this park is teeming with activity and natural wildlife. Enjoy nature at its finest by taking this trail. Plus, if you want to continue to the Atlantic Path, you can access it at the far side of the state park.
Charles River Reservation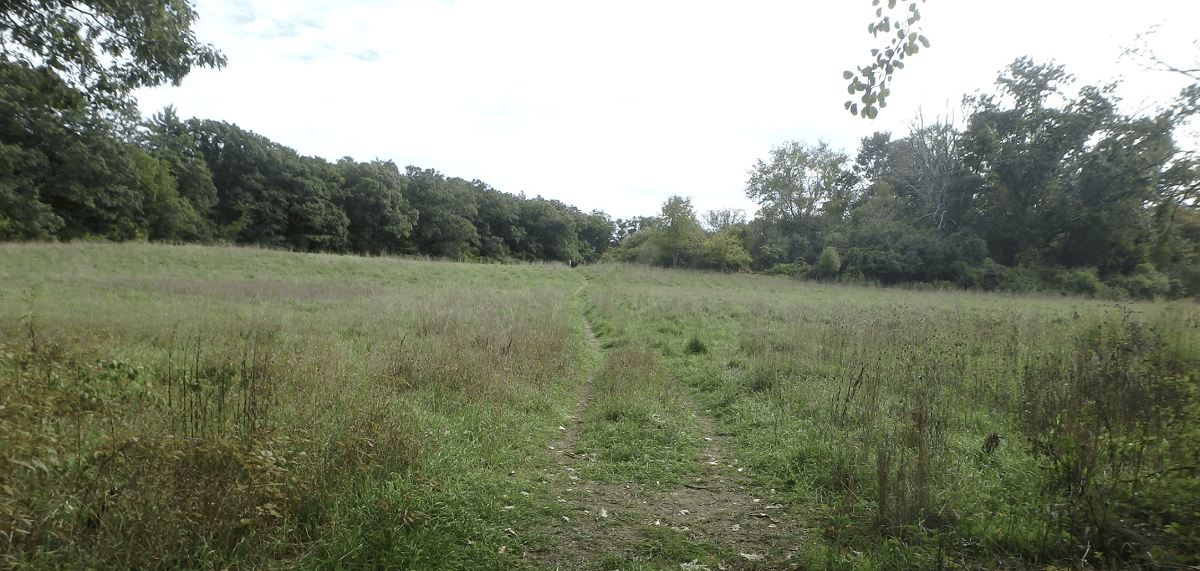 Take a walk in the park when you visit the Charles River Reservation. This 20-mile state park stretches along the river that separates Boston and Cambridge. Both sides of the river are green strips where you can stroll around or cycle. The area is surrounded by trees and grasses, giving you the perfect shade during sunny days. It also offers an unobstructed view of the Charles River.
If you ever want to cross the bridge without completing the whole 20 mile journey, there are also bridges strategically placed around the reservation to give you easier access to where you want to go.
While you can get plenty of good exercise just from strolling through the park, you can make it more challenging by hiking up the trails that intersect along the river.
One of the best trails for hiking in Boston is The Charles River Link. This is a 16-mile trail that stretches over an extraordinarily scenic path connecting Newton, Needham, Wellesley, Natick, Medfield, and Dover. Another great option is to explore the vast Wellesley Trails network. This follows the Charles River and continues through the Town Forest and the Longfellow Pond. You can take the riverside paths in the Boston area for a leisurely trail, or the suburban riverside paths for more stunning views of nature.
If you decide to take the riverside paths, just know that they will be heavily trafficked with runners, cyclists, and rollerbladers. Be aware of your surroundings and stay alert to avoid any unfortunate incidents.
Breakheart Reservation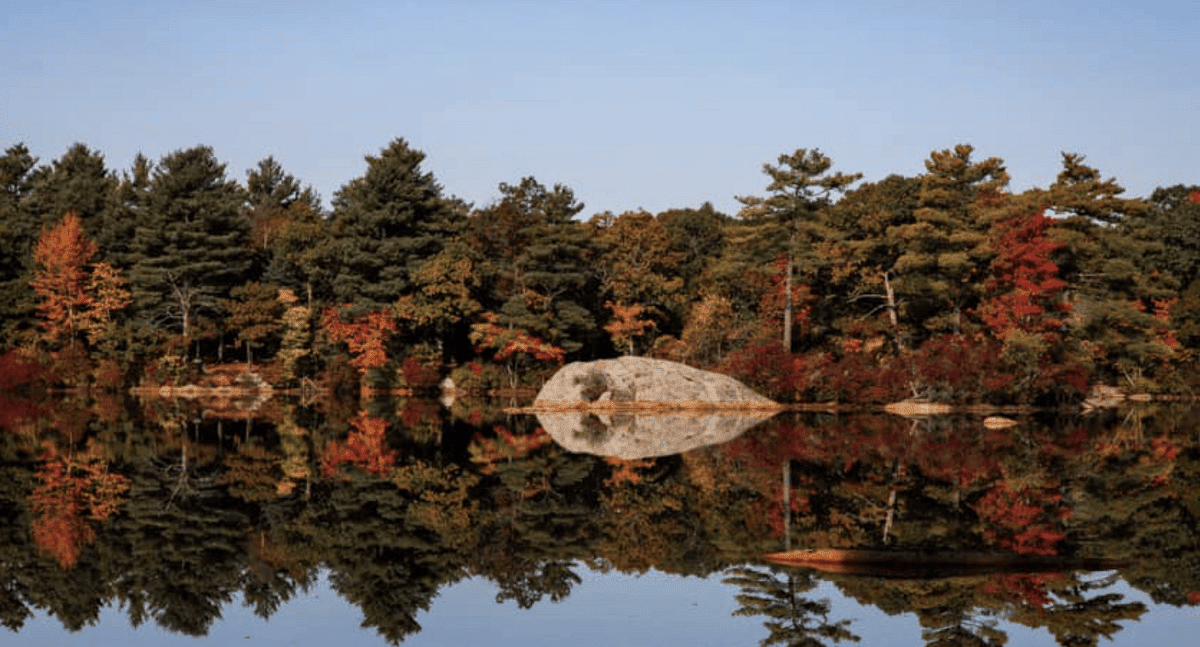 Almost unknown to many visitors is the hidden gem that is located in the north of Boston: the Breakheart Reservation. This 640-acre reserve lies along the wilder portion of the Saugus River. Inside is a hardwood forest, two freshwater lakes, and seven astounding hills. If you want to get a good view of not just Boston but also Southern New Hampshire and central Massachusetts, you can go to the rocky outcrops that are just 200 feet high.
Breakheart Reservation has four easy hiking trails, perfect for the whole family. But if you're a pro at hiking and you want a little more challenge, there are also trails here that have 42 – 181 meters of elevation gain.
Besides the extensive hiking trail system, you can also enjoy activities like bird-watching by the river, fishing in the lakes, swimming, running, and just admiring nature. These activities are available all-year round, but the reservation usually draws in the most crowds during the summer.
Enjoy Breakheart Reservation's vast natural resources, incredible wildlife, and breathtaking views by trying this trail for yourself. It's also family and pet-friendly, so you can bring whoever you want to make the experience all the more fun.
Battle Road Trail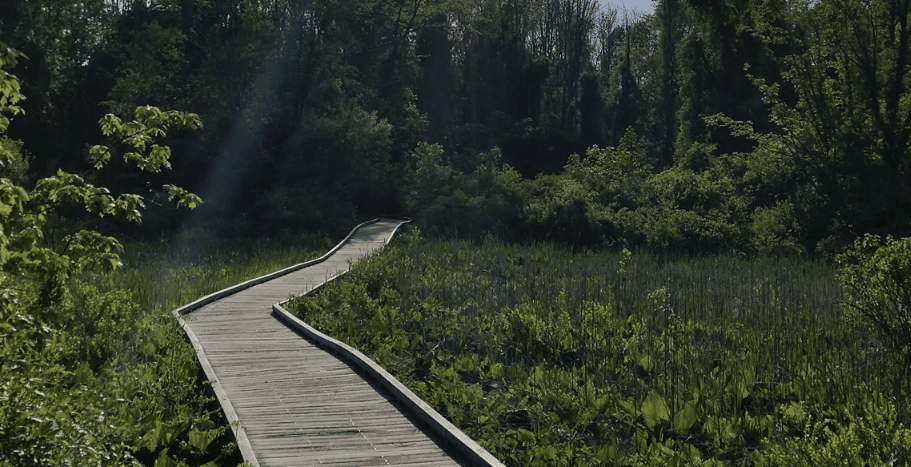 Do you want to expand your historical knowledge while admiring views of nature? There's no better option than the Battle Road Trail near Concord, Massachusetts. This 4.6-mile level path passes through forests and wetlands with great historical significance.
Two of the major events that happened in this area include the first shots of the American Revolution and the famous midnight ride of Paul Revere, the Boston silversmith, to warn Americans about the British. Along the path, you'll come across areas where the Minutemen harassed the British troops and the scenes of various battles.
If you want in-depth knowledge about the rich history behind this momentous location, you can read through historic markers conveniently placed around the trail. However, if this is not enough, you can also see displays and watch multimedia presentations in the visitor's center.
Overall, the whole trail is quite an easy route. On average, people can finish it within an hour and 30 minutes. However, you can take your time with it if you'd like to do some bird-watching, mountain biking, and exploring. Much like the other trails on this list, the Battle Road Trail is family and pet-friendly, so you can invite people and pups to join you on your hike. If you have children, this trail is a good opportunity to share stories of the past with them.
Mount Wachusett

If you're looking for a way to take your hiking near Boston to whole new heights, Mount Wachusett can deliver with the tallest mountain in the Boston area. It boasts a height of over 2,000 feet and is popular among skiers during the winter and seasoned hikers all year round.
If you happen to go up the mountain on a clear, sunny day, you can see incredible views of the Boston skyline, the Berkshires in western Massachusetts, and Mt. Monadnock in New Hampshire.
Surrounding the mountain is a 3,000-acre State Reservation that protects various natural habitats like the ponds, forests, mountain meadows, streams, and fields. All of this is available for you to explore on 17 miles worth of walking and hiking trails. Among the trails, you can find the Midstate Trail, which spans over 3.9 miles. This covers New Hampshire and the border of Rhode Island.
You can also enjoy a 2.6 mile hike up the Harrington Trail. This route has become popular among residents and visitors alike because it directly leads you to the summit, where you can enjoy majestic views of the surrounding landscape.
Experience nature like never before by taking a trip to Princeton and Westminster and hiking up the glorious Mount Wachusett.
Helpful Tips for Hiking in Boston
To ensure that you have a safe, comfortable, and enjoyable hiking experience, here are some simple tips that you need to know.
Pack the essentials (navigation tools, water, food, extra clothes, sunscreen, safety items, etc.)
Wear comfortable footwear and appropriate clothing for the weather.
Always pick a trail that you can manage.
If you've never hiked before, bring a companion.
Charge your phone and download maps of the trails before starting your hike.
Never stray from the path.
Warm up with a walk or jog before your hike.
By following these tips, you can rest assured that your hike will go on without a hitch.
Recap
Boston, Massachusetts is one of the best places to explore and admire nature. Many of the available hiking trails are not too strenuous, so people of all ages can participate in and enjoy them. If you're planning a trip to the city, make sure to include these trails into your itinerary.
Hiking is an incredible way for you to get out of the hustle and bustle of everyday life and simply revel in the wonders of the great outdoors. Get ready to bathe in the warm rays of the sun, breathe in the fresh air, and surround yourself with stunning greenery.