When most people think of west coast beaches, Southern California is likely what comes to mind. Sun-drenched destinations like the Santa Monica Pier, the Venice Boardwalk, and Coronado Beach in San Diego are among the most iconic shorelines in the entire country, and they're all down south.
But that doesn't mean the northern part of the Golden State doesn't share in the breathtaking natural beauty of its southern counterpart.  In fact, the opposite is true.
There are 840 miles of awe-inspiring California coastline, and a majority of it belongs to Northern California. From the little seaside towns that dot the magnificent coastline along Highway 1, to the bayside beaches overlooked by the iconic Golden Gate bridge, to the unsung beauty of the craggy shorelines north of San Francisco, let's look at the ten best beaches in Northern California that rival anything SoCal has to offer.
After your oceanside excursion, consider heading inland to one of Cali's amazing hot springs. They will reinvigorate your body after a long day of playing at the beach.
Here are the top beaches in Northern California to visit, in no particular order:
Carmel River State Beach, Carmel-by-the-Sea
One of the greatest things Northern California has to offer is small-town seclusion. All along the northern Pacific coast are picturesque seaside villages that look as if they belong inside storybooks. They're far less inundated by the traffic and rampant tourism found in places like L.A. and San Diego, and they still offer incredible beachgoing experiences.
Carmel-by-the-Sea in Monterey County is a great example of one of these fairy tale towns, and Carmel River State Beach is perhaps its most beautiful feature. It's just a one-mile stretch of sand but it's an incredible spot for all sorts of activities on both land and sea.
Kayak through Point Lobos State Natural Reserve, go diving at Monastery Beach, walk up near the Wetlands Natural Preserve and keep an eye out for the vast array of beautiful birds known to make their homes nearby.
Glass Beach, Fort Bragg
It may sound like an unpleasant place to walk around barefoot or to lay a towel out for some sunbathing, but don't be fooled: Glass Beach is one of the most uniquely stunning coastal locales in all of California. The beach is part of the MacKerricher State Park.
What used to be a dump for glass bottles has evolved into a coastline mural of smoothed out sea glass, unlike any other beach on the planet. The waters can be rough, and you probably don't want to lounge on the sea glass and rocks all day like you might on warm, soft sand, but this magnificent beach's charm lies elsewhere. It's an awe-inspiring example of the forces of nature turning trash into treasure.
Santa Cruz Main Beach, Santa Cruz
If you're looking for the SoCal beach experience up north, Santa Cruz may be your spot. The wide, flat beach invites all-day sunbathing and the surf is known to be some of the best in Northern California, but just like some of Southern California's most popular beaches, the sand and sun are only half the fun.
The Santa Cruz Beach Boardwalk offers a mile-long stretch of beachside dining, shopping, and a number of amusement rides. It's a historic destination that's over 100 years old and is home to two amusement rides, which have been recognized as National Historic Landmarks.
If you're interested in fishing, boat tours, shopping, dining, or watching for sea lions, check out the Santa Cruz Wharf. The wharf is also over 100 years old, and has served many purposes over the course of its lifetime, but today it stands today as perhaps the most popular destination for tourists in all of Santa Cruz.
Pfeiffer Beach, Big Sur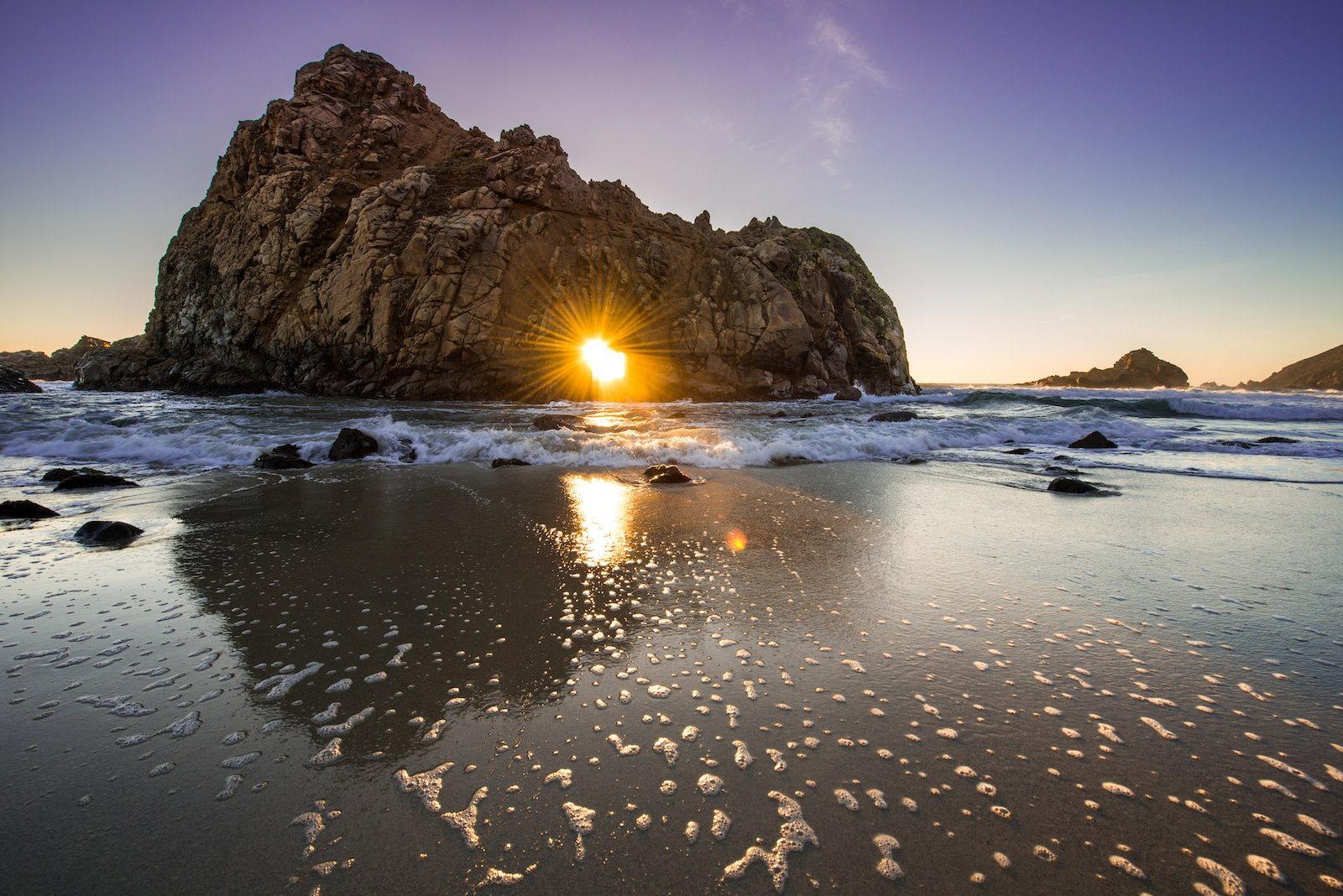 There are few places on the planet that can rival the majestic scenery of the Big Sur section of California State Route 1. Its mountainous seaside terrain has played muse to more than a few great artists, musicians, authors, and photographers, and it has made its way onto countless lists of great American road trip stops. It follows, then, that Big Sur may also be home to some of the most incredible beaches the world has to offer.
There are a great many special shorelines in the 71-mile stretch that unofficially makes up the area known as Big Sur, but Pfeiffer Beach is perhaps its most popular. It may be a bit of an adventure to get there, but that only adds to the splendor you'll find upon your arrival.  Enjoy a secluded swim, check out the famous rock arch, go tide-pooling, and be sure to bring your camera.
Capitola City Beach, Capitola
Capitola City Beach offers all the amenities of a traditional California beach experience. You can sunbathe, swim, go surfing, play beach volleyball, go fishing, and more at this popular shoreline in the little city of Capitola in Santa Cruz County, but what sets it apart are the rows of beautiful pastel-colored cottages that form its surrounding scenery. They make for a unique urban beach experience that shouldn't be missed.
Nearby Capitola Wharf is an ideal place to cast out your fishing line, sit down for a scenic meal, or watch for whales and dolphins as they make their way through the bay.
Monterey State Beach, Seaside/Monterey

Monterey State Beach is actually comprised of three separate beaches: Seaside, Houghton M. Roberts, and Window on the Bay. Each beach has its own unique characteristics, but all of them are popular spots for scuba diving, surfing, tide-pooling, kayaking, paragliding, and more.
The beaches run all the way from Fisherman's Wharf in Monterey to its neighboring city, Seaside, making Monterey State Beach a part of both cities.
Not all of the beaches are ideal for swimming, as some areas are known for strong rip currents. If you're looking to swim, Window on the Bay is your best bet.
Baker Beach, San Francisco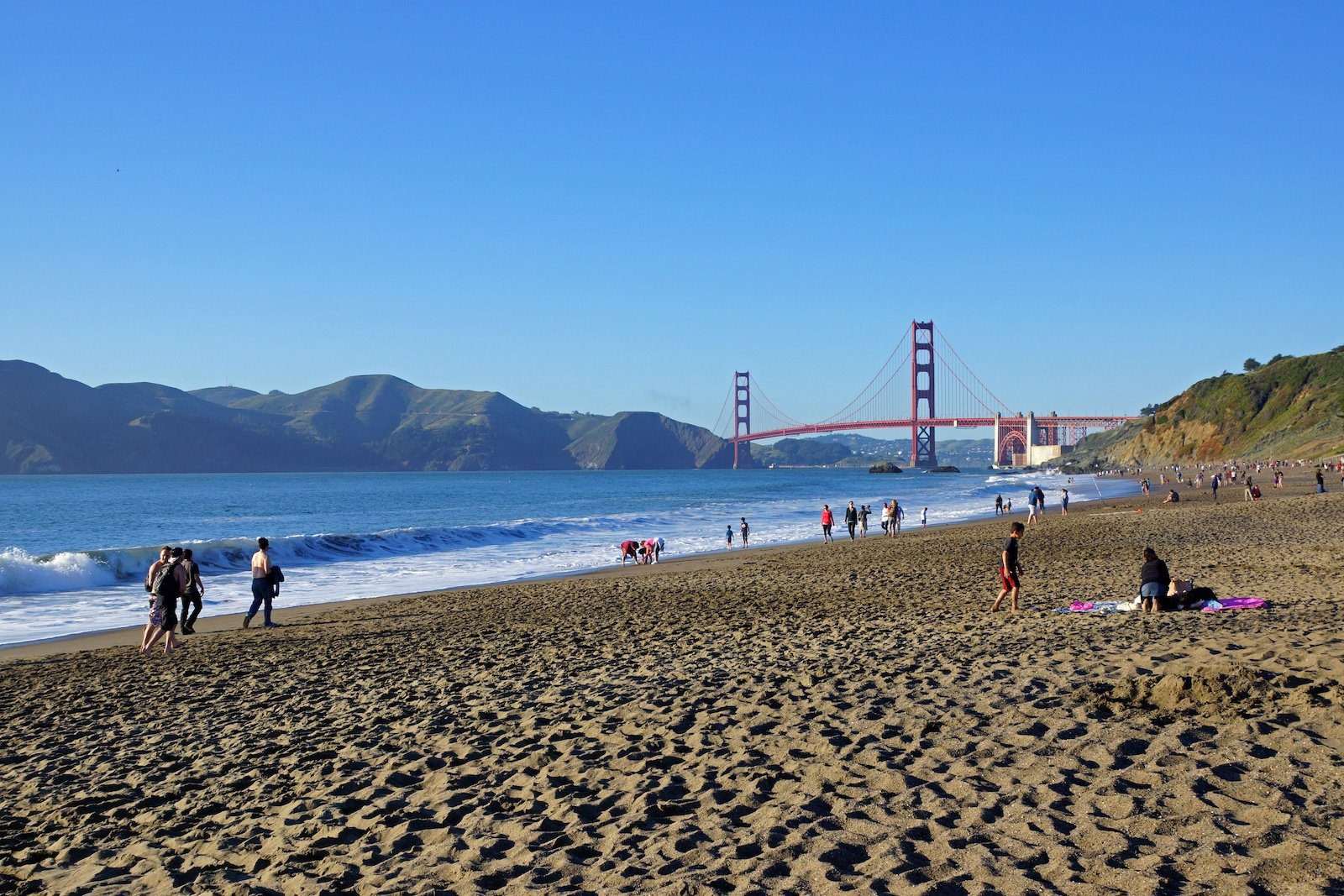 If you've ever wanted to sunbathe in front of an iconic American landmark, San Francisco's Baker Beach might be your spot. Situated just west of the Golden Gate Bridge, this incredible mile-long stretch of sand and sea offers a getaway from the crowded commotion of downtown San Francisco.
The waters at Baker Beach are rough and cold, and therefore not amenable to swimming, but there are plenty of things to do on dry land. The area has picnic tables and grills, and it connects to the nearby Coastal Trail. Be aware that the northern end of the beach is designated for clothing-optional sunbathers.
This beach is part of the decommissioned military base known as the Presidio, which is as old as the city of San Francisco itself. If you're looking for an extra sightseeing trip in the area, you can go check out the disappearing gun mounts at the Battery Chamberlain.
College Cove Beach, Trinidad

Located in the heart of Redwood country, College Cove Beach in Trinidad is almost 300 miles north of San Francisco, making it the northernmost beach on this list. College Cove Beach embodies the natural beauty of Northern California.
The surrounding terrain is rugged and rocky, and it's full of towering pines and Sitka spruces. The beaches themselves are lined with beautiful bluffs, and the water is dotted with towering rock formations.
Visitors come to College Cove Beach for incredible views and photo ops, scenic hiking trails, tide pools rich with marine life, and great surfing. You can also walk through the rock arch known as the Portal when the tide rolls out to get to Trinidad State Beach's main beach, which offers even more great hiking trails and scenic views.
It's important to note that College Cove Beach is a clothing-optional beach.
Drakes Beach, Inverness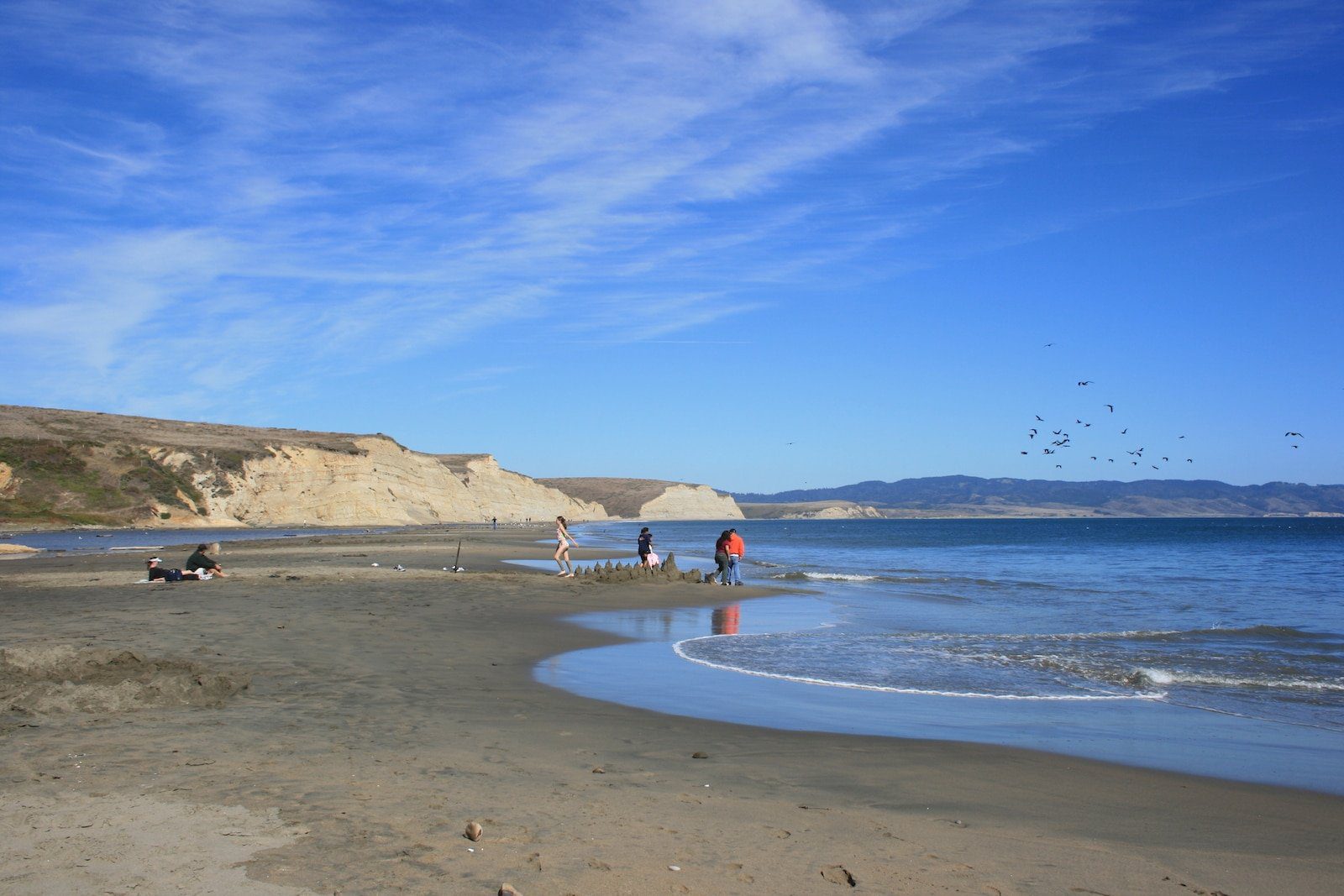 For those interested in leaving the beaten path in search of secluded shores, check out Drakes Beach in Point Reyes National Seashore. There you'll find some of the most pristine shorelines in all of California, untouched by man, in all of their natural splendor.
Getting to this isolated beach requires a long albeit scenic drive, so you need to be willing to make a whole day out of it. The beach is great for long walks, and the water may be cold but it's a fairly popular spot for surfing and paddleboarding.
There are also hiking trails at nearby Chimney Rock, and the Point Reyes Lighthouse to explore. To ensure the drive is worth your while, pack a lunch, some snacks, some drinks, and some warm clothes.
Fort Funston, San Francisco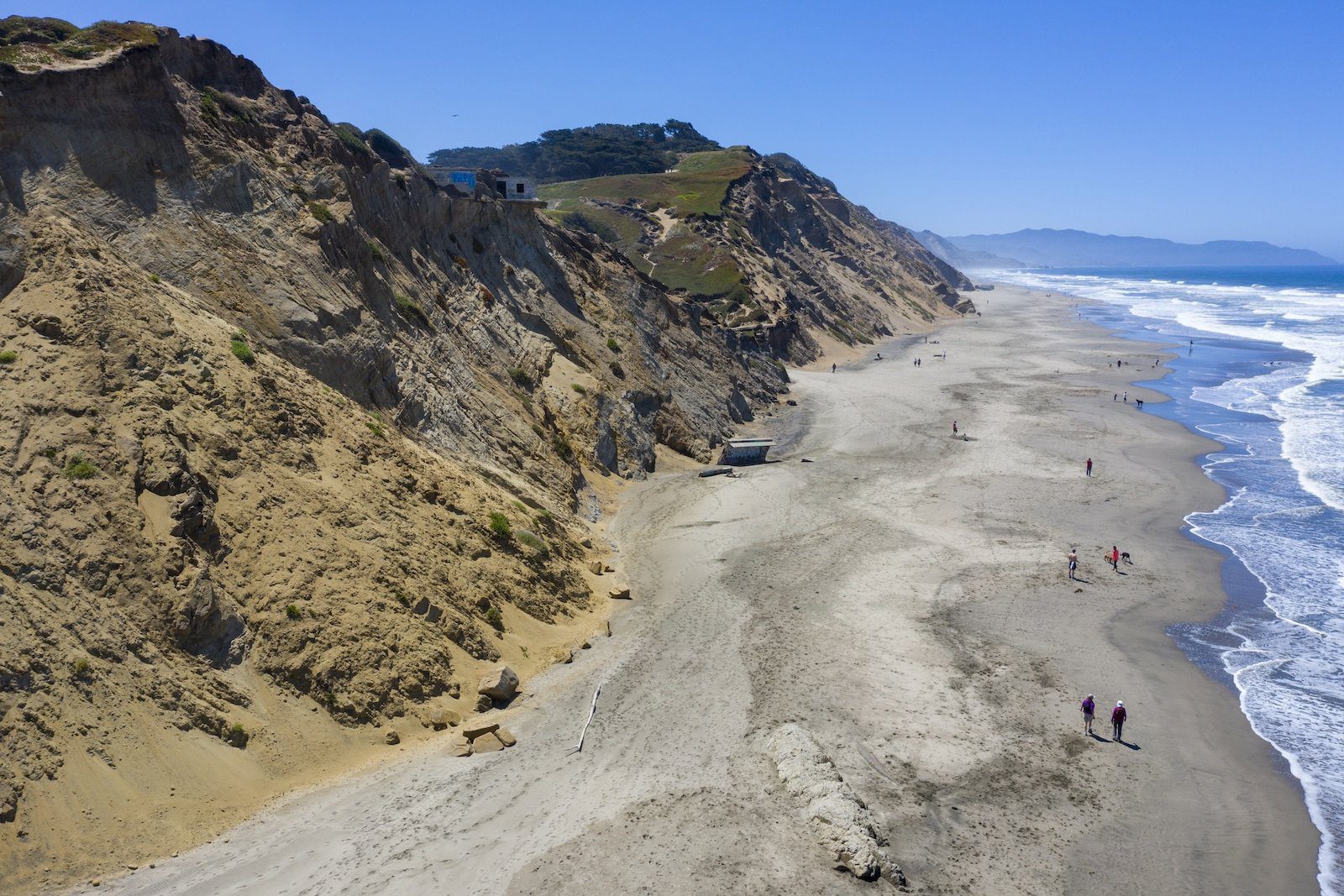 Fort Funston Beach is another Bay Area beach that offers a quick getaway from the chaos of San Francisco city life. The former location of a harbor defense installation, Fort Funston is now a Golden Gate National Recreation Area on the southern shores of the Pacific coast of San Francisco.
Visitors come to Fort Funston Beach for a wide array of activities including horseback riding, hiking the bluffs, biking, fishing, and dog walking. The wind conditions in the area are often highly suitable for hang gliding, as well, so Fort Funston has become a popular spot for airborne activity.
Like Baker Beach, some of the trails near Fort Funston run through former military installations. You can walk through two tunnels and observe the coastal artillery battery that dates back to World War II.
Those are among the best beach destinations in Northern California! Consider visiting these ski resorts near Truckee, if the winter season is upon us.